PHOTOS: 6 Ancient Muslim Advancements We Still Use Today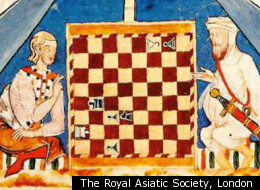 Imagine that you're on a camping trip. Are you jaunting through the Rockies, an earth-toned REI tent in tow?
Imagine that you're in a garden. Are you admiring the symmetry and scrupulousness of Versailles? Or getting your hands dirty in a community plot with rows of tomatos and kale?
It may be our tendency to assume our past times and modern luxuries are all thanks to earlier Western civilizations, but in fact, much of American culture is rooted in the Muslim world. Tents, gardens, libraries, herbal medicine, chess and jewels are all Eastern developments that we reap the benefits of today.
In the third edition of "1001 Inventions: The Enduring Legacy of Muslim Civilization" [National Geographic Society, $28.00], we learn about the evolution and advances of these apparatuses via a combination of ancient drawings and current photographs.
CLARIFICATION: We have changed 'inventions' to 'advancements' in the headline to clarify that in some cases a technology or practice might have existed prior to the Muslims' contribution.
An illustration shows a Muslim and Christian playing chess in a tent, from King Alfonso X's 13th-century Libros del Ajedrez.

Pages from a 13th-century manuscript depict two water-raising machines designed by Al-Jazari. Water-raising machines are driven by a water turbine through geared shafts, which turn a sindi wheel carrying a long belt of buckets. Al-Jazari made a wooden animal and placed it on the rotating disc on the machine so people would not think the automatic machine was driven by "magic"; they thought it was driven by an animal, operating multiple gears with partial teeth to produce a sequence of motion in four scoops that took water from the river one scoop at a time. This design included the first known appearance of a camshaft, which controlled the mechanism.

A 17th-century manuscript shows the paper making process.

Physician Serefeddin Sabuncuoglu from Amasya, Turkey, showed various surgical procedures in his 15th-century Cerrahiyyet'ul Haniyye.

A 16th-century miniature from the Hunernâme, by Mehmed Bursevî, shows the ascension to the throne of Sultan Selim I. The various uniforms classify ranks in the government. A senior officer is leaning to kiss the hem of the sultan's cloak. Kissing the hemi is an Ottoman tradition to demonstrate loyalty and obedience.

Astronomers study the moon and the stars in this Ottoman-style painting.