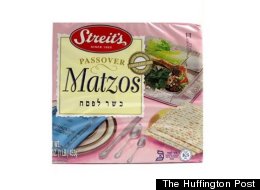 Passover is upon us, signaling the opening of thousands of boxes of matzo (or matzah, matzoh, etc.). And crumbs. Lots of crumbs.
Whether you love it (yum) or hate it (there's even a small Facebook group dedicated to slamming matzo), the dry, cracker-like foodstuff is pretty unavoidable if you're following a kosher diet for Passover. If you can't beat 'em, join 'em -- so we decided to test what's out on the market to find the best matzo.
For a quick bit of history, matzo was created when Moses' Israelites fled their homes in Egypt so quickly that they didn't have time to bake bread. During their escape from the pursuing pharaoh, they relied on eating an unleavened mixture of flour and water -- a far cry from bread. (For more history, check out Time's brief history of matzo.)
Today, there are several types of matzo -- plain, egg, flavored, organic, gluten-free, chocolate-covered, you name it. We decided to taste 9 brands of non-egg, Kosher-for-Passover matzo (plain, whole wheat, and spelt). We didn't exactly find anything to write home about, but one scored decidedly higher than the rest in our blind taste test (and the last-place matzo scored dramatically lower than the rest, so you may want to steer clear).
And if you're looking for a gluten-free matzo this Passover, we loved Yehuda's version -- it's buttery, flaky and flavorful (and though it's kosher for Passover, it contains eggs so it wasn't allowed to take part in our taste test ... but we just had to mention it).
Check out the slideshow below for the results of our taste test.
Comments: "Tastes like a Saltine." "Needs salt." "Bland on flavor." "No flavor, but acceptable texture." "The best of all of these." "Good flavor -- does this have egg in it?"

Comments: "Average." "I wouldn't mind eating it, but I wouldn't search it out." "Thin and light." "Light and generic." "Typical." "This is the matzo of my childhood."

Comments: "Very brittle." "I feel like I'm eating a handful of flour." "Strong aftertaste." "Relatively complex flavor." "Typical." "Makes me crave bitter herbs."

Comments: "Burned and tough." "Dries out my mouth." "Whole wheat cardboard taste." "Substantial and wheaty." "I appreciate the ridges." "My salivary glands are taking a vacation. So dry."

Comments: "Bland but inoffensive." "A good average cracker. It would be good with butter or cheese." "More prominent charred taste." "Tough." "Decent." "Pretty standard."

Comments: "Very wheaty." "Not too bad. Similar to a Rice Krispies treat." "Good balance of char and wheat taste." "Wheaty and cardboardy." "There's something nutty about this." "Dry and grainy -- not in a good way."

Comments: "Average." "Has a nice crumbly texture, but it's bland." "Nice and thick, with good texture." "Pretty standard."

Comments: "Chemical aftertaste." "Tastes like cardboard!" "Lots of char." "Extremely dry." "Extra flat." "Below average."

Comments: "Metallic aftertaste." "Tastes almost like rancid whole wheat." "Bad flavor and aftertaste." "Hard and disgusting." "Yuck. This must be whole grain." "Tastes like healthy matzo. Worst of both worlds."