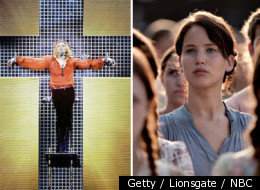 While it may seem like everyone is going gaga for "The Hunger Games" -- unless, of course, you're one of these people who have no idea what the movie is about -- we managed to find a review of the soon-to-be blockbuster that isn't so stellar.
Chances are, if life were like "The Hunger Games," NBC's "Bent" would be the network's first Tribute, after receiving abysmal ratings and a few poor reviews. And let's not forget "Material Girl" Madonna, who's seemingly trying to let the world know that she's still got enough blonde ambition to last her another few decades. But which critic has had enough of Madge?
HuffPost Entertainment has rounded up the week's snarkiest reviews just for your enjoyment in this week's installment of our "Week In Ouch" series.
This week, critics from Entertainment Weekly to The New York Times and HitFix were left shaking their heads and sharpening their tongues.
Let us know which films, albums and TV shows you think deserved the harsh critiques, and which ones you think critics should ease up on in the comments.
Gary Ross' "The Hunger Games" was generally well-received by critics, but there were a few that weren't impressed with the so-called epic -- like The Wall Street Journal. According to Joe Morgenstern, even a strong performance from Jennifer Lawrence can't save a "clumsy adaptation." On the whole, though, this sprawling, sometimes sluggish movie is most notable for its heavy touch--the sudden change of game rules is handled even more ineptly than in the book, while the ending is downright amateurish--and for its emotional remoteness. Apart from Peeta and Rue, the other Tributes remain shadowy ciphers.

Do know how rough it is to tweet up an elevator? To never have time for a manicure? Madonna's life is so rough. Sorry Guy Ritchie, she just didn't have time for you too. In other words, EW's Melissa Maerz is not a fan of Madonna's new album. All those reminders of her work ethic can feel exhausting. On the ridiculous electro-rap ''I Don't Give A,'' she runs through her insane schedule as a celebrity supermom. Before finishing her power workout, hiring a babysitter, ''tweeting on the elevator,'' and riding a helicopter to her divorce lawyers' office, she has an epiphany: ''Wake up, ex-wife/This is your life.'

Neil Genzlinger, of The New York Times, thinks that "All In: The Poker Movie" should change its name to "All In: The Poker Propaganda Movie." So padded with cheerleading that it doesn't have time for a serious exploration of poker's place in the broader culture or the consequences of its rapid rise and global reach.

Michael C. Hall can't seem to get any laughs in his new indie dramedy "The Trouble With Bliss." In fact, Kyle Smith, of The New York Post, doesn't even find him to be that interesting. A quality cast is wasted amid dismally unfunny scenes. The flustered Bliss spends scene after scene cringing and trying to keep his worlds from colliding. Not only does it seem unlikely that such a nonentity should inspire so much sexy mischief, but he isn't interesting enough to bother caring about anyway.

NBC's "Smash" may have been given a Season 2 order, but Moviefone's Christopher Rosen couldn't help noticing at least 25 eye roll-worthy lines from "The Workshop" including: 1."It's New York; those guys are on their own schedule." 2. "Traffic was never like this when I lived in New York." 22. "That's the theater."

We know that no one tuned in for the premiere of NBC's new comedy "Bent," and maybe that's because everyone forgot about it, as The New York Daily News suspects. Unlike, say, "Rob" or "I Hate My Teenage Daughter," NBC's new "Bent" isn't a terrible sitcom. It's just flimsy and forgettable. It's also schizophrenic.

Applying logic to "American Idol" is like trying to "teach a fish how to ride a bicycle," but that didn't stop HuffPost TV's Laura Prudom from trying to anyway. It looks like Billy Joel night was a big flop. Why force [the contestants] to run the gamut of styles and arrangements that are the antithesis of their identities as vocalists now? All it seems to do is highlight irrelevant weaknesses that have no impact on the kind of albums they'd release, since no artist strays outside the genres that they're most comfortable with once they get a record deal anyway.

Kiefer Sutherland's new Fox drama "Touch" may tug on your heartstrings, but according to HitFix's Alan Sepinwall, it's for all the wrong reasons -- it's "cheesy" and "manipulative." There's a lot of clumsy exposition, and every development is telegraphed five or six scenes in advance. When the big emotional climax happened in the pilot, I smiled; this one made me groan and bellow, "Oh, come on!"