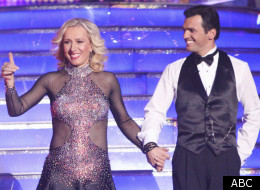 This week was light on new TV, but there were still plenty of looks we loved ... and just as many we loved to hate.
"Dancing With the Stars" kicked off its new season, and one star had missteps on the dancefloor and in the wardrobe department. The "Pretty Little Liars" said goodbye for a while, but not before baffling us once more with their truly unpredictable fashions -- some better than usual, and some borderline cartoonish. And we fell in love with silver fox Dermot Mulroney and his comedy skills ... so we hope he sticks around "New Girl" for a while.
Click through the slideshow below to see all our picks for best and worst dressed TV characters of the week, then share your nominees in the comments!
TV's Best & Worst Fashion, March 16-22
This was hands-down the worst "Voice" battle round performance of the season, but the get-ups on Erin and her competition, the Shields Brothers (who guest mentor Babyface kept calling "Wayne's World"), added insult to injury. Singing Tina Turner's "What's Love Got To Do With It," they were mismatched and all over the place ... and the singing wasn't great either. Party on without our votes!

When did Dermot Mulrony become such a fox? And such a great comedic actor? He completely charmed us as Russell, the wealthy father of one of Jess' students who wants a passing grade from Miss Day, and he looked really well put together in everything from a suit (so dashing!) to his apron (and he can BBQ!). Bonus points for the coordinating blue and green in their outfits -- they seem like a cute couple already.

We know ... the "Pretty Little Liars" have become a bit of a fashion punching bag, but we couldn't let the season finale go by without giving them one last critique. From left to right, their masquerade ball ensembles went from fabulous (Spencer) to interesting (Emily) to tragic (Hanna) to downright cartoonish (Aria, of course). If this was a wardrobe Rorschach test, the diagnosis for this show would be style schizophrenia. Maybe Mona is A and the costume designer?

"You get a Star of David Bar Mitzvah award! And you get a Star of David Bar Mitzvah award!" We were all excited to see the Greendale gang pull off their best celebrity impersonations, but it was Shirley's Oprah Winfrey that won top style prize. Mazel tov!

Drama! Sometimes we have to call out the ones we love -- in this case, we were so excited for the return of the herald of all things fabulous on "Happy Endings" that we simultaneously laughed and cringed when gay BFF Derek popped up wearing this. The '80s-inspired workout look came complete with a fanny pack and wristbands ... and his other workout outfit wasn't much better.

Whether you think she's "The One" for Barney or not (I know, Barney and Robin shippers -- we hear you!), you have to admit that Quinn has a great sense of style. Her red-soled booties dress up a simple t-shirt and jeans, and her casual comfort snuggling on the couch with Barney only makes us dig her even more.

Sorry, Martina. We appreciate your effort, wearing a dress and all, but you (or really, the "Dancing" stylist who put you in this outfit) get a big thumbs down from us. The sheer ... the sequins ... we didn't know where to look, so we wound up wishing we could just look away. Here's to better luck (and better dancing) next week!

Kalinda is stunning -- there's no doubt about it -- but we're always pleasantly surprised when she trades in one of her many tough gal leather jackets for a nice sweater, some softer makeup and, yes, that's almost a hint of a smile.