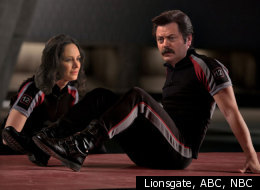 Everyone's got "Hunger Games" fever, and just because TV is our usual beat doesn't mean we're immune to it.
Since the games themselves revolve around a futuristic version of reality TV -- one where the contestants, a.k.a. tributes, must fight to the death to be the last one standing -- we got to thinking about which current TV characters would we stick our Mockingjay pins on and nominate as tributes for a TV-inspired "Hunger Games"?
Below are the craftiest, the most cunning, the strongest and the most sly 15 TV characters we nominate as tributes for the ultimate "Hunger Games" smackdown. Of course ,we're not saying we'd be fine seeing these characters perish in the arena (well, maybe a few), but we'd love to watch them battle it out.
Click through our gallery to find out why we think each character would make a strong tribute, what their special skills would be, as well as their possible downfalls. Then vote for your pick in our poll below. May the odds be ever in your favor!
Why He's A Strong Tribute: He's a zombie tracker so he's used to violence, and he has the ability to distance himself from emotional situations. Special Skill: He's deadly accurate with a crossbow, and his inability to connect with people could serve him really well. Possible Downfall: He's a pro at killing walkers, but his fellow tributes might not be such slow and fumbling targets.

Why She's A Strong Tribute: She's the craftiest society matron on the Eastern Seaboard and her tenacity is fairly terrifying. Special Skill: Pretty sure she can shoot hate lasers out of her eyes. Possible Downfall: It's hard to compete in the Hunger Games in a tight dress and strappy heels.

Why He's A Strong Tribute: Ron Swanson is an avid outdoorsman -- he'll create shelter and protect it to the very end. Special Skill: A skilled woodworker, Ron could make weapons, canoes ... pretty much anything out of the arena's dense forests. Possible Downfall: Brunettes and breakfast foods, or the lack thereof.

Why She's A Strong Tribute: This woman went from being a passive pushover to a raw-heart-eating dragonmother. 'Nuff said. Special Skill: Her three baby dragons go everywhere she goes. Possible Downfall: She can be a bit naive.

Why He's A Strong Tribute: Ellis is a little a snake -- he'll foster and burn bridges until he's the last slimy man standing. Special Skill: He's a pro at hiding and learning secrets. Possible Downfall: All those burned bridges will come back to haunt him eventually.

Why She's A Strong Tribute: Jane's got just the right amount of crazy to outwit her opponents (it is the Kerkovich way), and enough athleticism to outrun them, too. Special Skill: She's great with a pair of knitting needles. Possible Downfall: She's even stronger with her boo, husband Brad, in tow.

Why He's A Strong Tribute: Roger can charm anyone or anything, and his acute business mind could certainly help him strategize and survive. Special Skill: Charisma and a killer smile. Possible Downfall: Massive ego.

Why She's A Strong Tribute: She's bold, brave and she can take out rivals with her succubus powers, which also allow her to extract information and get others to do her bidding. Special Skill: She's handy with a crossbow. Possible Downfall: She's weaker without Dyson to restore her strength and without Kenzi to supply quips and (a)moral support.

Why He's A Strong Tribute: Bart is clever, manipulative and spry, weaseling his way into (and out of) just about anything. Special Skill: Thorough knowledge of explosives and firearms. Possible Downfall: Immaturity.

Why She's A Strong Tribute: Jeannie is ruthless, and she'll do anything it takes to get ahead. Special Skill: We imagine she possesses some of actress Kristen Bell's intense "Hunger Games" knowledge. Possible Downfall: Loyalty issues mean she could have a hard time forging alliances.

Why He's A Strong Tribute: Chang's crazy, y'all, and crazy people basically have no fear. Special Skill: Hiding in tiny, cramped spaces for long periods of time. (See: Living in Greendale's air conditioning ducts.) Possible Downfall: He's a talker, and on that he'll never Chang his ways.

Why She's A Strong Tribute: Her hands are huge, which would help her initial haul in the arena's cornucopia of food, weapons and supplies. Special Skill: She's a machine gun expert. Possible Downfall: As a former animal rights activists, she'll have a hard time killing animals for meat.

Why He's A Strong Tribute: He is a master chameleon and has made a living on his keen powers of observation. Special Skill: He's a wordsmith and quite the charmer -- who wouldn't want to be his ally? Possible Downfall: He's competitive, but not ruthless enough to actually kill someone to win.

Why She's A Strong Tribute: This vampire has the intelligence to know when to sink her teeth into something and when to back off. Special Skill: Luring in her prey and sucking the life out of them ... literally. Possible Downfall: Deep down, she has a heart of gold and can be a bit gullible.

Why He's A Strong Tribute: He's a professional hitman, which might be the most intimidating job title entering the arena. Special Skill: Sharpshooting. Possible Downfall: He only has one eye.
Obsessed too? Our friends at Moviefone have everything else a fan could want:
Showtimes & Tickets
Reviews & Interviews