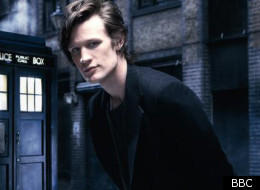 Attendees of Day 1 of the"Doctor Who" Convention in Cardiff, Wales had plenty to smile about.
Not only did the March 24 audience get some serious scoop on "Doctor Who's" upcoming Season 7, they also got the world premiere of the Season 7 teaser trailer. And it is completely awesome.
As previously reported, cast members Karen Gillan and Arthur Darvill are leaving the series in the fall. Their exit has has a suitably big, dramatic storyline written by showrunner Steven Moffat, which features fan favorite baddies the Weeping Angels.
Recently, the normally spoiler-averse Moffat dropped some clues via Twitter, saying: "Amy & Rory will leave in a final encounter w/ the Weeping Angels in ep 5. Not everyone gets out alive & I mean it this time."
On Sat., March 24, in a "Doctor Who Uncut" panel session, executive producer Caroline Skinner added that Amy and Rory's final episode will be shot in New York City.
Karen Gillan told HuffPost TV in an interview at the convention that the cast had their first read-through of the script on Friday night, and that Amy goes out in a majorly ass-kicking way.
"I know how I want her to go," Gillan said. "And I actually know how she goes now."
When asked if she could elaborate, Gillan laughed and said, "No, I can't! Absolutely not! But I know that I want her to go out in all her glory."
It was also revealed that the Doctor's new companion, Jenna-Louise Coleman, will make her debut in the 2012 Christmas special.

Season 7 will be split, with the final eight episodes airing in 2013. Which also marks the 50th anniversary of the veteran drama.
Former "Doctor Who" star David Tennant said in a BBC radio interview recently that he'd love to be part of the anniversary celebrations, but added, "I'm not at present! I'm waiting for a phone call." But on Day 1 of the convention, Moffat refused to say whether any of the previous residents of the TARDIS would be part of the anniversary festivities.

The "Uncut" panel session also featured the world premiere of the Season 7 teaser trailer, which received a rapturous reception from the capacity crowd. The trailer goes live on BBC's website Mon., March 26 at 4 a.m. ET. It contains footage from the Season 7 premiere, which was shot on the same sets in Almeria, Spain as the classic spaghetti western "The Good, The Bad And The Ugly." There are guest appearances from sci fi superstar Ben Browder and Adrian Scarborough (a.k.a. Pritchard the butler in the rebooted "Upstairs Downstairs").
The trailer also boasts some serious special effects and, was that a Dalek's eye poking through the snow at the end?
Check out HuffPost TV's interview with "Doctor Who" stars Matt Smith and Karen Gillan.
New to "Who?" Check out HuffPost TV's guide to the five essential episodes.
"Dancing With The Stars" (8 p.m. ET on ABC) season premiere This season's lineup of stars -- including a Super Bowl champion, a telenovela star, a tennis legend, a Disney Channel star, a classical singing star and a music legend -- will perform either the Foxtrot or the Cha Cha for the first time on live national television with their professional partners during the two-hour season premiere of the reality staple.

"Pretty Little Liars" (8 p.m. ET on ABC Family) season finale Aria, Emily, Hanna and Spencer finally come face-to-face with their tormentor in "unmAsked." Rosewood's Junior League Masquerade Gala is the perfect setting for "A's" next game of cat and mouse with his/her favorite targets. But with the Liars fast on his/her heels, will this game be "A's" last?

"Lost Girl" (10 p.m. ET on Syfy) This sassy supernatural drama should be on the watch list of anyone who appreciates strong, enviable female friendships and a healthy heaping of girl power -- both of which primetime TV is sorely lacking these days. This week, Bo meets a Dark Fae succubus, and Kenzi attempts to help Trick save The Dal Riata.

"Cougar Town" (8:30 p.m. ET on ABC) Just as Jules is trying to work through Grayson's "baggage" from his wild single days, a chance encounter with a former fling, Holly (guest star Briga Heelan), ends with him making a shocking discovery.

"The River" (9 p.m. EST on ABC) season finale With a course now plotted for their final destination, the Magus crew suddenly finds itself in complete chaos when a member of their own is shot dead. Jahel calls upon the spirit of the Boauna to help, against the wishes of her Father. The crew's quest is threatened further by the unknown killer, as the situation continues to spiral out of control.

"Southland" (10 p.m. EtT on TNT) season finale Lydia is pressured to make a decision regarding her pregnancy. Elsewhere, Tang reports for her last day on patrol before moving on to another precinct; Sammy is recuperating from injuries; and Ben goes in search of the woman he's been attempting to help.

"Bent" (9 p.m. EST on NBC) season premiere double-bill Recently divorced Alex (Amanda Peet) is a high-strung lawyer raising her 10-year-old daughter Charlie (Joey King) as a single mom. Unwilling to let anything get in her way, she downsizes into a smaller house and hires contractor Pete (David Walton), a free-spirited, recovering gambling addict and ladies man who's in desperate need of this gig. Upon hiring him, Alex quickly realizes that she has met her match in Pete, who, along with his motley construction crew, will not only tear apart her kitchen, but transform her worldview in the process. (A word of warning: don't get too attached to this midseason comedy -- the show's three weeks of double-bills to get through its meager six episodes have a distinct air of burn off to them.)

"Happy Endings" (9.30 p.m. EST on ABC) Dave finds himself bullied at the gym by Corey (guest star Bobby Moynihan, "Saturday Night Live"), and former bully Alex coaches him on how to fight back. Meanwhile, the residents at Brad and Jane's condo are fed up with Jane being too controlling as president of their home owners' association, and rise up to challenge her for the job. But when Penny tells Jane to "sleep on it" before she does anything rash, her advice results in an all-new, suddenly chill Jane.

"Psych" (10 p.m. EST on USA) When the founder of Right Now, Santa Barbara's oldest at-risk youth program, is shot and almost killed, Shawn, Gus and a few members of Gus' a capella group from college search for the culprit. Mekhi Phifer, Jaleel White, Cheech Marin and Kristy Swanson guest star.

"Community" (8 p.m. ET on NBC) As the study group returns after winter break, Jeff reveals that he's been seeing a shrink and he's on anti-anxiety medication. The newfound confidence leads him to experience debilitating levels of narcissism, which Britta tries to help him manage. Meanwhile, over the break, Abed developed a celebrity impersonator habit that has saddled him with debt. In order to help Abed shed his debt, the study group dons costumes and goes to work for Vincent (French Stewart, "3rd Rock from the Sun") as celebrity impersonators -- appearing in character at a Bar Mitzvah celebration.

"Touch" (9 p.m. ET on Fox) timeslot premiere Kiefer Sutherland's new show settles into its regular timeslot tonight. Martin Bohm, a widower and single father trying to connect with his mute 11-year-old son Jake, is led to a pawn shop where a robbery triggers a sequence of unpredictable events that connect a distraught flight attendant in New York, a son visiting from India on a mission to spread his father's ashes, a middle school magician in Moscow, a cancer patient in New York and a mobster in the Bronx. It's up to Jake and Martin to link the thread between them all.

"Archer" (10 p.m. ET on FX) season finale Archer and his colleagues at ISIS wish they had never voyaged to the final frontier in an effort to prevent a catastrophe on the International Space Station.

"Nikita" (8 p.m. ET on The CW) Michael is furious when he discovers a secret that Cassandra (guest star Helena Mattsson) kept from him, so he and Nikita fly to Moscow to confront her. Meanwhile, Alex makes a last ditch effort to find her mother (guest star Sarah Clarke) by sending out a coded message through a televised interview.

"Fringe" (9 p.m. ET on Fox) spring premiere Following recent shocking revelations and emotional events, Peter weighs his options as the Fringe team investigates a terrifying killer targeting love in this new episode, directed by executive producer Joel Wyman.

"Supernatural" (9 p.m. ET on The CW) Misha Collins makes his long-anticipated return as Castiel. Lucifer (guest star Mark Pellegrino) drives Sam to the breaking point and Sam ends up in a mental hospital. Desperate to save his brother, Dean calls every hunter he knows for help. One of the hunters gives him the name of a healer who turns out to have a very familiar face.

"My Big Fat Gypsy Wedding" (10 p.m. ET on TLC) season premiere The first of seven one-hour episodes that will share more of the outrageous weddings and extravagant celebrations of gypsies and travellers living in Britain today.

"Ball Boys" (3 p.m. ET on ABC) series premiere From the producers of cable's top-rated "Pawn Stars," "Ball Boys" follows the sports memorabilia business at iconic Robbie's 1st Base in Baltimore, MD, and the charming family-like relationships of the sports fanatics who work there: Robbie Sr. and Junior, Sweet Lou and Shaggy. The 12 half-hour episodes will feature the never-before-seen negotiation of buying and selling unique sports merchandise, both at the store and at off-site locations. In addition, numerous sports legends -- from football pioneer Jim Brown to baseball great Pete Rose to former NBA star and current ESPN commentator Jalen Rose -- stop by the store to join in lively debates, smack talk and comical antics with the staff.

"Once Upon a Time" (8 p.m. ET on ABC) While searching for a missing Mary Margaret, Emma is kidnapped by a man whose affinity for hats has him teetering on the edge of madness. Meanwhile, viewers will be transported outside of the fairytale land that was for the first time when the Evil Queen persuades a skillful man of magic to come work for her one last time and travel to Wonderland in order to help steal something from the Queen of Hearts. Sebastian Stan as guest stars as The Mad Hatter.

"Mad Men" (9 p.m. ET on AMC) two-hour season premiere After more than 500 days off the air, the critically acclaimed drama makes its eagerly-awaited return. Pete and Roger butt heads, and Joan clashes with a houseguest.

"The Good Wife" (9 p.m. ET on CBS) When Alicia is assigned to be on a blue ribbon panel investigating a police shooting, she begins to question the motivations behind the chairman's actions. Meanwhile, Kalinda receives unwanted attention from the IRS. Matthew Perry ("Friends") guest stars as Mike Kresteva, the panel chairman.