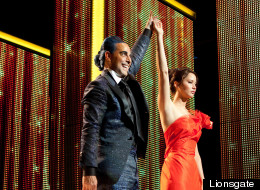 Sorry, Bella. When it comes to box-office odds, Katniss Everdeen had everything in her favor. "The Hunger Games" scored $155 million in North American ticket sales this weekend, the third highest opening weekend of all time, according to estimates from Lionsgate.
Only "The Dark Knight" ($158.4 million) and "Harry Potter and the Deathly Hallows Part 2" ($169.1 million) have had stronger opening weekend showings, giving "The Hunger Games" the highest non-sequel weekend premiere ever. The $155 million bounty also outranked every entry in the "Twilight" series, including the franchise's biggest opener, "New Moon," which started with $142.8 million when it bowed in November of 2009.
"The Hunger Games" had opened strong on Friday, notching $68.5 million in ticket sales, as fans lined up for midnight screenings and packed theaters around the country.
About a government-sponsored reality show-like tournament, where 24 children -- aged 12-18 -- fight to the death, "The Hunger Games" stars Jennifer Lawrence, Josh Hutcherson and Liam Hemsworth. It was based on of first book of Suzanne Collins's best-selling young-adult trilogy. "Catching Fire," the second film in the planned trilogy, arrives in theaters in November of 2013.
"The Hunger Games" added an additional $59.25 million in international ticket sales.
"HUNGER GAMES" REVIEWS
As for visual spectacle, there's enough but, along with it, a feeling of being slightly shortchanged; the long shots of gigantic cityscapes, of a fast train gliding silkily through the country, of massive crowds gathered to see this year's gladiators before they set off to kill one another, of the decorative flames emanating from the leads' costumes as the pair is presented to the public for the first time -- all are cut a bit short, as if further exposure would reveal them as one notch below first-rate.

As thrilling and smart as it is terrifying. There have been a number of big-gun literary series brought to screen over the past decade. This slays them all.

Slack pacing, poorly developed subplots, shabby camerawork, and miscasting dog the movie. Incongruous tonal shifts disguise more than elucidate a bloated story with subversive aspirations it can't fulfill. For all of Jennifer Lawrence's charms -- and they are many -- the gifted actress is no competition for a wobbly script and weak chemistry with Josh Hutcherson, who plays Katniss's fellow District 12 competitor Peeta.

"The Hunger Games" is a big, satisfying piece of entertainment. You can't ask for anything more.

Everything starts with Lawrence, and she is absolutely perfect as Katniss. She is gorgeous enough to flourish during the pageantry stages of the Games, yet naturalistic enough to convince us that this scrappy survivor can do more than persevere in the arena.

Gary Ross' futuristic adventure drama is light years ahead of 'Twilight'." It's better and scarier than its source book and aims an angry eye at our bloodthirsty, watch-anything-and-cheer culture."

"Whatever 'The Hunger Games' lacks in originality, it makes up for with verve and relentless forward motion. The movie dazzles you with its bravado and moves fast enough to keep you from asking too many questions about its implausibility."

"So little is seen of Liam Hemsworth as Gale, Katniss' soul mate/fellow hunter ... that the uninitiated might not pay attention to the third angle of the story's romantic triangle -- about the only element this high-quality pop culture phenomenon has in common with the swoons of 'Twilight.'"

"Gary Ross's 'The Hunger Games' ... is at best a mediocre effort -- an obviously second-tier thing, tedious, lacking in poetry or grace or kapow. It feels sketchy, under-developed, emotionally simplistic and hambone. And it looks cheap and cheesy."

"The film version is actually fairly faithful to the book. Except that it takes all the flaws of the book -- outlandish genetic mutations, an endless sequence that takes place in a cave -- and fixes them. And, as stated before, it's interesting to watch what's going on outside of the arena once the Games have started."