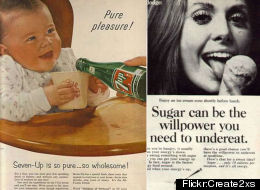 Would Don Draper approve these messages? With Mad Men's season five premiere bringing everyone's favorite vintage show back to television on Sunday, we decided to take a look back at the ads that influenced our dieting styles and body images over the years.
It's easy to think of the current glut of half-baked weight loss solutions as a modern phenomenon. But these vintage advertisements for the wacky weight loss "cures" of yesteryear prove that snake oil and pseudo-science are not a 21st century invention. But from "obesity soap" to soda for infants, we can appreciate how far we've come over the past century in terms of understanding what our bodies need to function healthfully:
Old Fashioned Weight Loss Ads
"When you're hungry, it usually means your energy is down," reasons this ad from sugar manufacturers that was in circulation in the early 1970s. "By eating something with sugar in it, you can get your energy up fast." They advertised sugar as only 18 calories per teaspoon and "all energy." Of course, they neglected to mention that immediately after creating a surge of energy, unfettered sugar consumption leads to a blood sugar crash that triggers appetite and brings on fatigue.

We don't need to review the damaging effects of cigarettes, do we? Smoking is associated with heart disease, stroke, many different cancers, and emphysema and other respiratory diseases -- just to name a few. In fact, smoking remains the number one preventable cause of death in the United States, killing 393,000 Americans each year. This 1929 advertisement for Lucky Strike cigarettes reveals how tobacco products were marketed to women primarily as a weight loss aid.

A good reminder that unrealistic body ideals skew in both directions, this was one in a series of advertisements for slender young women who wanted the voluptuous figure in fashion at the time. Nothing wrong with a "naturally skinny figure" -- or a naturally any-kind-of figure, for that matter.

Ingesting a parasite on purpose, to stay thin? No thanks. While there is some skepticism that pills like these actually contained living tape worms, the notion that a person could lose weight from having a parasite is not totally logical. As Los Angeles Times health writer Elena Conis explained, "Some tapeworm species can bring on not just weight loss, but also malnutrition, nausea, vomiting, diarrhea, anemia and the formation of fluid-filled cysts that can damage organs, block circulation and cause seizures."

By feeding into the notion that vegetables are tasteless and undesirable, this "dieting candy" company got it all wrong. The vibrant colors, textures and flavors of vegetables are palatable and make you feel good. Flavored with chocolate, butterscotch, peanut butter and other candy flavors, the appetite suppressant candies were first made with a local anesthetic, benzocaine, and then with the stimulent, phenylpropanolamine. But clearly, a carrot is the offensive option.

Industrious companies have been trying to sell the idea of a quick fix for weight loss for a long time, as this ad proves. With vague, "fine vegetable" ingredients, the pill company claims that their supplements "redistribute fat" as you sleep. Now we know there are no short cuts: an active life style and careful eating are the only way to achieve a healthy weight.

Has there ever been a more clearly stated subtext than appears in this ad? Fat is dirty, the ad implies, and all one must do is simply wash it away.

While strength training with bands is an effective and efficient workout that's back in vogue, the resistance exercises can only help tone muscles and improve alignment and strength -- they can't change cup size. Short of surgical intervention or overall weight gain, nothing can.

Replacing meals with processed shakes and bars might help you reduce calories, but that doesn't mean you're getting complete nutrition. Eating a variety of whole, unprocessed foods is a better bet than depriving yourself of meals in favor of sugary shakes.

According to this ad, it's never too early to start plying your infant with soda. Why? Because it's "pure and wholesome." This 1956 ad for Seven-Up boasts that the drink comes with an ingredient list on the label, which wasn't required at the time. And while that's commendable, the ingredient list surely revealed how sugary the beverage truly is. We now know that sugar-sweetened beverages like sodas and energy drinks are one of the biggest scourges in the fight against childhood obesity. While much of the current connection between obesity rates and sugar-sweetened beverages are related to growing portion sizes and increased availability, there is no benefit to serving sodas to small children. CORRECTION: An earlier version of this article displayed an advertisement that was inspired by child-centric soft drink ads of the time, but was actually a well-crafted fake. We regret the error.