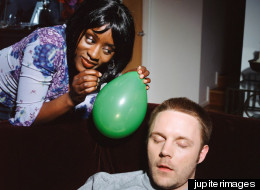 April Fools' Day is known as a day when people play pranks and jokes on each other. But for some who make their livings punking others, such as Joe Gatto, there's a different name for it: "Amateur Hour."
Gatto is one of the stars of "Impractical Jokers," a hidden camera series on TruTV where Gatto and his three lifelong friends form a quartet that competes in awkward and contrived contests in front of unsuspecting bystanders.
But even though Gatto spends 364 days of the year pulling pranks -- 365 in a Leap Year -- he doesn't believe in doing them on April Fools' Day.
"It's too obvious a choice," Gatto told The Huffington Post. "It's a built-in excuse. A true prankster doesn't need a safety net. Doing it on April 1 takes away the surprise."
In at least one way, the joke will be on Gatto this year. Ironically, Gatto may not be pulling pranks on what he calls "my day off," but the network is running an "Impractical Jokers" marathon on April Fools' Day.
However, Gatto's co-star and friend James Murray said there is a benefit to pulling a prank on April 1 that doesn't exist any other day.
"Really, it's the perfect day to do a prank because you don't have to apologize to anyone," Murray told HuffPost. "I wish we could do every episode on that day."
TOP APRIL FOOLS' DAY PRANKS OF ALL-TIME (Story Continues Below)
Biggest April Fools Pranks
On April Fools Day in 1957 "Panorama", a news show on BBC aired footage of Swiss "Spaghetti Farmers" picking spaghetti from trees. The fake footage was aired as a joke, but viewers called in to find out how they could grow their own spaghetti trees. Instead of coming clean, the BBC cheekily replied, "place a sprig of spaghetti in a tin of tomato sauce and hope for the best."

In 1992 NPR's "Talk of The Nation" show pulled off a pretty impressive prank, they convinced their listeners that RIchard Nixon planned on running for president again. After announcing that Nixon planned to run, the host aired clips from a speech by "Nixon" (recorded by impressionist RIch Little) that included his new campaign slogan. "I didn't do anything wrong, and I won't do it again." NPR was flooded with calls from outraged listeners who wanted to declare their stance against the faux-candidate.

All over the internet links were being posted that claimed to be something else, but actually lead to the music video for RIck Astley's hit "Never Gonna Give You Up." This act was known as Rickrolling and Youtube took it to a whole other level on April Fools Day 2008. Youtube made every featured video on their site a link to RIck Astley's famously cheesy music video.

Taco Bell attempted a different kind of advertising for April Fools Day 1996 when they purchased full page ads in seven major newspapers across the U.S. In these ads Taco Bell announced that they had purchased the Liberty Bell and were renaming it the "Taco Liberty Bell." They claimed that the purchase was to "help alleviate national debt." Thousands of people picked up their phones and protested until Taco Bell revealed the hoax at noon that day. It is believed that Taco Bell's strategy paid off and earned them millions of dollars in free publicity.

In 1993 a press release was sent to a Columbus, Ohio newspaper by the "Arm The Homeless Coalition." The press release announced that the coalition would be accepting donations to arm and train homeless people who pass their mental test and are in need of a firearm. The press release gained the attention of Rush Limbaugh, CNN, and "AP" who later found out that the coalition was actually just three college students promoting homelessness and gun violence awareness. This prank has spawned many copycats, such as the video above.

The "Daily Mail" in London reported that a Japanese man had entered the 1981 London Marathon and due to a mistranslation thought he had to run for 26 days, not miles. A man was spotted running outside of London and wouldn't stop when people tried to get his attention. The whole story turned out to be a hoax and the man that people saw was just another piece to the elaborate prank by The "Daily Mail".

The April 1st 1998 edition of the USA Today featured a full page ad by Burger King announcing the creation of their latest twist on their most popular sandwich, The Left Handed Whopper. The ad stated that the condiments on the burger were rotated 180 degrees for easier consumption by people who were left handed. The following day Burger King released a press release that confirmed that the Left-Handed Whopper was not real and that thousands of people went into various Burger Kings asking for both left and right-handed Whoppers.

In 1933, the "Madison Capital-Times" reported that the capitol building had collapsed due to a build-up of gases from the debating that was going on in the building. After it was discovered that the building was intact, the "Capital-Times" was met with a reaction of both outrage and laughter.

British Supermarket chain Tesco ran an ad in "The Sun" that announced that they had developed genetically modified carrots that grew with tapered air holes in their sides. When the carrot was fully cooked the carrot would use these air holes and "whistle." Unfortunately for many disappointed customers, Tesco made the whole thing up, but most likely sold more carrots than usual.

The first time Google pulled a prank on its faithful users was for April Fools Day in 2000. Google announced its new "Mentalplex Technology" which claimed to be able to read a user's mind so they didn't have to enter their search query. A person using "Mentalplex" would have to stare at a revolving shape and then would be treated to a Google Results page for "April Fools Day". This was the first time Google surprised its users and it certainly wasn't the last. There is an entire Wikipedia article dedicated to Google's various hoaxes.

Thomas Edison was renowned as a genius in his day and in 1878 New York "Graphic" announced that the New Jersey dweller had invented a machine that could turn water into wine and soil into cereal. This of course was a hoax, but other newspapers around the country didn't get the joke and published the article with tons of editorial praise. The next day the "Graphic" re-published some of the praise with the headline, "They Bite!"

The Daily Mirror and Telegraph both fell for this bogus documentary discovery on the BBC that was described as Darwin's theory of evolution working in reverse: Flying Penguins! You would think ex-Monty Python player Terry Jones would tip people off that it was a joke, but alas. It was a great prank! (Thanks Ian V!)

The "New Mexicans for Science and Reason" newsletter played a huge prank on its number crunching readers. For their April 1998 issue, the newsletter ran an article claiming that Alabama State legislature had legally changed the value of Pi from 3.141 to the more biblically important 3. This article spread like wildfire and was reported by other news outlets. The result was Alabama's State Legislature being flooded with phone calls in protest of a law that they weren't even aware of. The perpetrator of the prank was physicist Mark Boslough. Who knew that a physicist could be such a prankster?

The northwest comedy television show "Almost Live" aired a live special on April 1, 1989. In honor of April Fools Day, the comedy troupe decided to pull a prank live on air. The prank was simple, during they show they would cut away to an actor playing a news anchor who would announce that the Space Needle collapsed. Then he would show doctored photos of the "collapsed" building with the caption "April Fools Day." What was intended to be a harmless prank escalated when the 9-11 service in Seattle was overloaded with phone calls and shut down. A week later, the "Almost Live" crew issued an apology and earned April Fools Day infamy for the rest of their lives.
Still, there are many professional pranksters like Alan Abel who view April Fools' Day with the same disdain that seasoned drinkers express toward those who only imbibe on New Year's Eve.
"April Fools' Day has slowly eroded in the last 50 years," Abel lamented to HuffPost. "There used to be six daily newspapers in New York and they loved pranks. There was one guy named Jim Morin who used to do one every year, like putting an actual haystack on Broadway and having people look for a needle."
Abel did some elaborate pranks himself, such as pretending to be a golf pro who taught Westinghouse executives how to use ballet positions to improve their game, getting seven people to pretend to faint during a taping of the Phil Donahue talk show, and creating a fake organization called the Society for Indecency to Naked Animals (SINA), whose mission is best summed up by their tagline: "A nude horse is a rude horse."
Sadly, he said, those days are gone.
"April 1 is not a day to put on pranks," he said. "You can't get away with it. People have their antenna up. They'll know right away."
Alex Boese, who runs the Museum of Hoaxes, a website dedicated to exposing hoaxes, urban legends and "other forms of B.S.," agreed that April 1 may have outlived its usefulness as a prank day.
"Take, for instance, the recent video of the guy who did the human bird wings," Boese said. "If his final video had appeared on April 1, it would have been obvious it was a hoax."
Boese said that while real April Fools' pranks are no longer as effective as in years' past, there is a rise of corporations doing pranks.
"That started in the 1970s and it's caught on with corporations whose images lend themselves to being lighthearted, such as when Google did a video last year pretending you could write email just with hand gestures," Boese said.
As a result though, many corporations and other pranksters are now scheduling their hoaxes earlier so they can be printed on April 1.
"That may have started in 1972 with a guy who dumped a sea elephant carcass in Loch Ness a day earlier so it could be discovered on April Fools' Day."
SEE WHY JOEY SKAGGS IS KING OF THE PRANKSTERS (Story continues below)
Joey Skaggs: King Of The Pranksters
For nearly 40 years, conceptual artist Joey Skaggs has made it his life's work to hold the media's feet to the fire by creating outrageous pranks that satirize their desire to not let thorough fact-checking get in the way of a sensational story.

In 1976, Giuseppe Scaggoli (aka Joey Skaggs) planned to hold an auction of rock star sperm from the likes Mick Jagger, Bob Dylan, John Lennon, Paul McCartney, and Jimi Hendrix. Skaggs asked about 50 actor friends to gather in front the brownstone home of his attorney where they had put up a name plate that said Celebrity Sperm Bank. Some actors portrayed rock musicians, some were groupies, and some were women with protest signs such as "Do it the old fashioned way." The police officers were real.

In 1981, Skaggs pretended he was entomologist Dr. Josef Gregor, who had created a strain of super-roaches immune to toxins and radiation, and that he had extracted a hormone from them that supposedly cured colds, acne, anemia, menstrual cramps and nuclear radiation. In the hundreds of news stories that followed, no one checked his credentials or noticed his references to the Kafka story Metamorphosis in which the main character, Gregor Samsa, turns into a six foot insect. When he revealed the hoax, many of the major news outlets didn't retract their earlier story.

In 1983, Skaggs protested the fact that artists were being priced out of New York neighborhoods by creating working aquariums for upwardly mobile guppies and called them Fish Condos. Skaggs did hundreds of media interviews and told reporters, "Since we are continually polluting the oceans of the world, fish will eventually need a better home in which to live."

In 1984, Skaggs helped a friend break into acting by creating a fictitious talent management agency called Bad Guys, Inc. for bad guys, bad girls, bad kids, and bad dogs. Using head shots designed like FBI Wanted posters, he got his friend a job in films and a story in People magazine. The concept started out as a joke but after he amassed a roster of 300 performers, he handed over the now-successful agency to a friend.

The Fat Squad was a 1984 prank where Skaggs pretended to Joe Bones, ex U.S. Marine drill sergeant and proprietor of the Fat Squad, an organization that supposedly helped people lose weight by having six tough looking calorie cops standing guard around a refrigerator. "Good Morning America" fell for the stunt, but didn't admit their culpability until the New York Post did a story on the hoax.

In 1994, Kim Yung Soo (a.k.a. Joey Skaggs), President of Kea So Joo, Inc. sent 1,500 letters to dog shelters around America soliciting all their unwanted dogs for ten cents a pound. The phone's outgoing message, in both Korean and English, was punctuated by yapping dogs in the background. Skaggs' point was to illustrate the hypocrisy, intolerance, and prejudice harbored by so-called animal rights humanitarians, as well as gullible and racist media, towards other cultures.
But while some prank experts aren't laughing about April Fools' Day, artist Joey Skaggs, who specializes in pranks designed to raise social awareness and comment on society, believes the day does serve an important purpose.
"It's an excuse to vent frustrations, and be playful and harmless," said Skaggs, whose pranks include creating a "cathouse for dogs," where pooches could get sexually gratified by an assortment of female dogs; the "Fat Squad," a group of commandos who would follow larger people around to make sure they stuck to their diets; and the Solomon Project, a revamp of the American judicial system where super-computers would replace judges and juries.
Unlike some pranksters like Gatto, who consider April Fools' to be their sabbath, Skaggs is working as an organizer of the New York City April Fool's Day Parade, now in its 27th year.
Skaggs said the parade will run from 59th Street and 5th Avenue to Washington Square Park and supposedly include a contest for King Of Fools that includes Barack Obama, Donald Trump and all the Republican presidential candidates, but if it holds to past form, the parade will be another one of his pranks.
"There is always a parade," he insisted. "People show up, but it's impossible to do a head count."
If you are planning an April Fools' Day gag, Murray recommends keeping it real.
"Joey [Gatto] and I are roommates and one year he put a plate of spaghetti under my pillow," Murray laughed. "Also, it's better, when you're not there to witness it. The alibi is key -- but try to record it."
Skaggs also had a bit of key advice: "All pranksters have to suspend any empathy, even momentarily, for the person being pranked."