Create a new focal point on a boring wall in your home with this DIY sunburst mirror. While similar styles can sell for $200 to $500 at home stores, it only cost blogger Kristen Cripe $32 to make this stunning version. With a little time and some glue, you can make Kristen's sunburst mirror and bring the same stylish look to any room in your home. Keep reading for the easy how-to.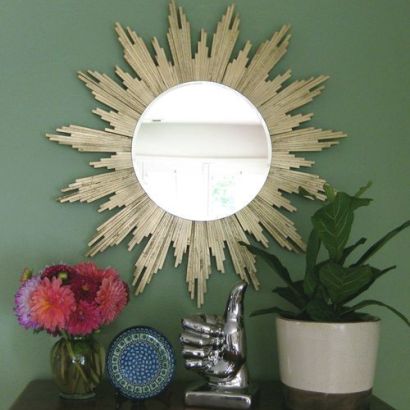 Photo by Kristen Cripe of K Sarah Designs
To do the project, you are going to need a 14-inch round mirror, wood glue and spray paint. You will also need several packs of wooden shims that are 12 inches and 8 inches in length to get a more varied sunburst design. Begin by arranging the shims in the shape you want your mirror to take. Lay out the longer shims in groups of nine and the shorter ones in groups of seven. Next, glue the shims in each grouping together. These will form your different-sized sun rays. Once the individual rays are dry, glue them together in the shape of your sunburst and attach them to a piece of plywood backing for extra support. Spray paint the wood and attach your mirror using Gorilla Glue. Weigh it down with heavy objects as it dries to make sure the glue sticks.
For the full tutorial, visit K Sarah Designs.
Have something to say? Be sure to check out Stylelist Home on Twitter, Facebook and Pinterest.