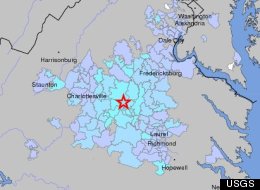 WASHINGTON -- A mild 3.1 magnitude earthquake rocked much of Central Virginia late Sunday night near the epicenter of the August 2011 5.8 magnitude temblor that was felt across much of the East Coast.
According to a U.S. Geological Survey's Did You Feel It? map, people who reported feeling the quake were primarily in an area roughly bounded by Charlotttesville, Richmond and Fredericksburg.
The quake, which hit at 11:21 p.m., had an epicenter about 8 miles from Mineral, Va., and 88 miles southwest of the nation's capital. There was no reported damage, according to WTOP.
Roughly 100 aftershocks have been recorded in the Central Virginia Seismic Zone since last year's 5.8 magnitude earthquake.