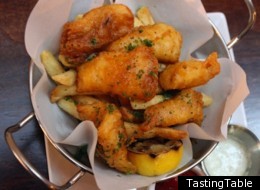 This article comes to us courtesy of Tasting Table San Francisco.
Each month, HuffPost SF joins TastingTable.com's San Francisco editor, Jessica Battilana, to highlight our five favorite finds from the city's amazing culinary scene. Here's what caught our eye in March:
Our new obsession is Neighbor's ethereal croissants, made by master baker Greg Mindel. Try a savory version, filled with mushrooms and Manchego, or our favorite, filled with pistachios and blackberry jam.

The best time to head to new Mission restaurant Lot 7 is during happy hour, when a generous portion of golden, crispy fish and chips can be had for only $7, with draft beers only three bucks and oysters for $1 each.

We've all had egg sandwiches before. But the version at Spice Kit, made with a steamed bun that's been split and filled with thick-cut Hobbs' bacon and a spicy egg omelet, redefines the genre.

Sure, we've all heard of bespoke clothing. But bespoke brews? Oakland's Linden Street Brewery is making two special beers exclusively for two restaurants--one with sourdough starter, the other with lemongrass and shiso.

Yes, the sandwiches at Wise Sons are excellent. But what we're waiting in line for is the fried kugel, served with a generous drizzle of maple syrup.
For more from the San Francisco culinary scene, follow Tasting Table SF on Twitter and Facebook.