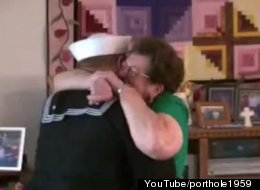 Nothing's better than a giddy grandmother.
In an attempt to make a memorable entrance, this sailor, who's been away from home for more than eight months, decided to sneak into a family picture at his grandma's 76th birthday celebration.
According to the video description, he's been stationed on the USS John C. Stennis since July and decided to surprise his family upon his return.
Grandma yelled in excitement, as she wrapped her arms around her grandson and jumped up and down.
"It's so good to see you!" she said as she composed herself.
We're pretty sure that picture is going in a frame.
Can't get enough of heartwarming homecomings? Check out this soldier dad's "heroic" surprise.