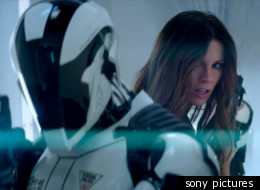 The "Total Recall" trailer teaser has been unleashed upon the unsuspecting masses by Sony Pictures Entertainment. If this trailer teaser is anything to go by, gravity will play a major role in this film's dramatic plot development.
(Scroll down for scene-by-scene screenshots from the trailer)
Behold! Colin Ferrell, Jessica Beil and Kate Bekinsale in lots of quick shots of leaping, jumping and plummeting. With some gun-cocking, explosions and serious looking faces thrown in for good measure.
Following in the recent marketing footsteps of the upcoming sci fi film "Prometheus", the teaser doesn't give away much except a taste of what to expect Sunday April Fool's Day, er, 1st on ABC during the NBA game between the Boston Celtics and Miami Heat game, and will be followed by an extended cut trailer on Apple trailers.
The "Total Recall" reboot/remake takes place on a future Earth, whereas Paul Verhoeven's 1990 fan favorite starring former California Governator and action star Arnold Schwarzenegger was set on Mars. This is perhaps the biggest apparent difference between the films, and the reboot's synopsis highlights more:
Total Recall is an action thriller about reality and memory, inspired anew by the famous short story "We Can Remember It For You Wholesale" by Philip K. Dick. Welcome to Rekall, the company that can turn your dreams into real memories. For a factory worker named Douglas Quaid (Colin Farrell), even though he's got a beautiful wife (Kate Beckinsale) who he loves, the mind-trip sounds like the perfect vacation from his frustrating life - real memories of life as a super-spy might be just what he needs. But when the procedure goes horribly wrong, Quaid becomes a hunted man. Finding himself on the run from the police – controlled by Chancellor Cohaagen (Bryan Cranston), the leader of the free world – Quaid teams up with a rebel fighter (Jessica Biel) to find the head of the underground resistance (Bill Nighy) and stop Cohaagen. The line between fantasy and reality gets blurred and the fate of his world hangs in the balance as Quaid discovers his true identity, his true love, and his true fate.
In this first trailer, aside from one familiar scene in the Rekall machine where Douglas Quaid is presumably getting his memories implanted (second slide in the photo gallery below), the rest of the new Total Recall world looks like a mashup of Bladerunner, Mass Effect and The Fifth Element.
Fans with fond memories of the extremely violent original will no doubt be waiting for Sunday's trailer and wondering if Farrell and Co. will deliver a line or two in the spirit of Verhoeven's take.
Here's hoping for at least one Johnnycab moment.
Stay tuned this Sunday, and when the movie releases on August 3 -- the same day as the new Bourne movie.
Total Recall Trailer Teaser
Quaid gazes out over a futuristic world very reminiscent of the world created in Bladerunner.

Colin Farrell about to embark on his Rekall adventure. Hopefully he can come up with some facial expressions to match Ah-nold.

In Total Recall's future, the world Is filled with flying cars.

Gravity helps our heros.

Michael Bay would be proud.

Pretty slick shock trooper type uniforms. Very "Mass Effect".

Looking like a mix between The Fifth Element and Bladerunner, a quick cut to a flying car being chased by equally flying cop cars precludes the next shot...

Gravity plays a part as a major dramatic catalyst in the Total Recall remake.

Somebody appears to be throwing himself (probably Farrell) into a Bladerunneresque city street scene. Maybe this is crowd surfing in the future.