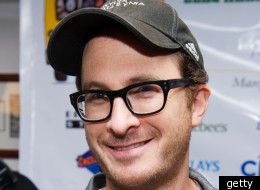 Cross one project off Darren Aronofsky's growing ledger. Despite a report from the website Tracking Board on Tuesday that Aronofsky would helm "Get Happy," a Judy Garland biopic that has Anne Hathaway attached to star, the director confirms it isn't happening.
"Judy Garland story is not true," Aronofsky wrote on Twitter. While the account is not verified by the social networking site, The Huffington Post confirmed with Aronofsky's publicist that it is indeed the director doing the tweeting.
Aronofsky does have one actual project happening in the near future: "Noah," a large-scale big-budget interpretation of the story of Noah's Ark. Russell Crowe is attached to star as Noah.
After "Black Swan" earned multiple Oscar nominations and over $329 million in worldwide grosses (on a scant $13 million budget), Aronfosky was attached to direct "The Wolverine" with Hugh Jackman, but backed out because he wanted to spend time with his family.
"Get Happy" has been in development since 2009 with Hathaway attached to star. The Weinstein Company reportedly hired Jaffe Cohen to write the script, which is based on "Get Happy: The Life of Judy Garland."
[via The Playlist]