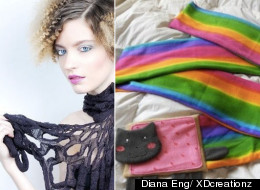 Whether you're a mega techie, a gamer geek, or anything in between, there's absolutely no shame in showing off your love for your nerdy obsession of choice.
In fact, there are plenty of ways you can geek yourself out without going too overboard. For fashion-forward Fibonacci lovers, for example, former Project Runway contestant Diana Eng offers a beautiful 100% New Zealand Merino wool scarf knit using the Fibonacci sequence. And gamers going out for a night on the town can always dress up their get-ups with subtle Super Nintendo GoldenEye 007 game cartridge cufflinks.
To check out more awesomely nerdy clothing pieces and accessories, flip through the slideshow below! Then, have a look at our slideshow of geeky bikinis and dorky sweaters.
Want to suggest another geektastic accessory we should include? Tell us about it in the comments (and include a link), tweet it to us @HuffPostTech or email us at technology@huffingtonpost.com. We can't wait to see what you've found.
Most Geektastic Clothing And Accessories
Who says you can't be geeky and fashionable at the same time? Diana Eng, a former contestant of Bravo's Project Runway, meshes the two together with her Fibonacci scarf. The fashionable scarf was knitted using the Fibonacci number sequence, a mathematical pattern often found in nature. The garment is available for $275 on Eng's website.

If you're looking for a more obvious way to show off your geekiness, there's always Carly H.'s fleece Nyan Cat scarf, which she created for her XDcreationz Etsy store. Unfortunately, the $3.50 scarf looks like it's sold out for now, but you might get lucky if you keep checking back.

Natasha Dzurny is selling these Apple power button earrings for just $20 on her Etsy store TechnoChic, which features a variety of Apple- and tech-inspired jewelry.

If you're more of a band geek than a tech geek, consider purchasing this extremely awesome electronic drum machine shirt, which comes with a working drum machine and looper, nine different drum kits with seven professional-grade drum sounds each, and a working mini amp that you can clip onto your belt -- all for $29.99. This wearable insta-rave is available at ThinkGeek.com. See how it works in the video above.

According to the blog We Make Money Not Art, this Pong dress was created by Max Moswitzer and Margarete Jahrmann of the Ludic Society and features a 5x7 LED screen along with two retro-style game controllers. You can check out videos of the dress in action on the Ludic Society's website. [via Technovelgy]

An alternative to the Pong dress is this Pong hat, created by Iain Sharp. Sharp explained the lengthy creation process on his site, Lushprojects.com, so, if you're up to the challenge, you may be able to make the hat yourself.

Wordnik co-founder and CEO Eric McKean handmade this Tetris-inspired dress to wear to a Web 2.0 Summit back in 2009 (she also made a cool Darth Vader-inspired dress!) If you happen to be a crafty nerd, you can try your hand at making the dress yourself -- the Tetris fabric used for the dress is available on Spoonflower.

Reddit user Sarpedonx posted a picture of these Super Nintendo GoldenEye 007 game cartridge cufflinks, which he received as a gift from his brother because it's his favorite game (it looks like his brother may have bought them on Etsy, but they're sold out for now). In Sarpedonx's words: "Best present ever."

Are you often in dire need of a WiFi signal but can't ever find one? Maybe this WiFi-detecting t-shirt from ThinkGeek.com would be the perfect shirt for you. According to ThinkGeek.com, the shirt is available for just $19.99 and shows the strength for 802.11b/g WiFi signals. (It's currently out of stock, but keep checking back if you're interested in buying one!)

It's never too early to mold your baby into a die-hard Apple fan. This clever "iPood" baby bodysuit comes courtesy of Zerodesignz and is available for $20 on CafePress. Oh, and as an added bonus, it's organic, too!

Etsy users Katerina and Dimitra created these cool earrings out of real circuit boards. They're on sale through their store CandyPunxxx for €25 or approximately $34.25.

Online store UncommonGoods is selling this sleek watch for $159, but don't be fooled -- it's no ordinary watch. It's a LED Samui Moon Binary watch, which requires you to know the Base 2 number system used by computers to read it.

Whether you're a true geek or not, chances are you can relate to this t-shirt. Kudos to those of you who actually do remove your USB safely from your laptop or computer. And, for those of you who like to live dangerously, you can show your pride by purchasing this shirt for $23.95 at Zazzle's GeexStore.

What happens when technology, beauty and fashion combine? Lifestyle expert, Judy Goss is here with a variety of high tech fashion fixes that will be sure to change our lives.