PHOTOS: What Do You Keep Inside Your Refrigerator?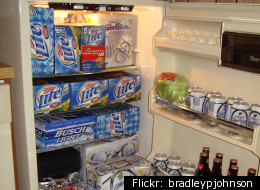 Looking in someone's refrigerator is like taking a glance in their medicine cabinet: it's awfully revealing. And you can learn some pretty important information. Not only can you tell what kind of foods they're into (which then indicates how much they care about nutrition and their health), you can also tell if they cook or not (if you only see condiments in the fridge, there are probably a lot of take-out menus nearby).
And even more importantly, you can tell how clean that person truly is. All the hiding of dirty clothes under the bed and unread mail in the junk drawer will be revealed by the state of one's fridge. (And if you happen to find dirty dishes in that fridge, you might not want to use their restroom.)
But regardless of what's found on the other side of that refrigerator door, it's always sort of fun to look inside. While poking around on Flickr, we came across a ton of interior fridge photographs -- and we could not stop looking. We went through more than 50 pages worth of refrigerator pictures, and we've gathered the most interesting ones for you. Click through the slideshow to see what we found.
And once you've seen what's out there, we want you to show us what's in your fridge. We know it's a little personal, and you just might not want to go there with us. But, we double-dog dare you to snap a picture and submit it in the slideshow below.
And if you want to keep a well-organized fridge but just can't figure out how, watch the video below.
What we like about this fridge is that even though the amount of beer is quite literally bursting the door open, there's still room for a head of lettuce. It's nice to see someone thinking about nutrition. Courtesy of Flickr: bradleypjohnson.

Even if you've seen a completely empty fridge before, it probably didn't feel as empty as this one. There's something about having a half used container of soy sauce that really highlights all the "emptiness" around. Courtesy of Flickr: Global X.

With a fairly empty fridge, it's easy for cats to play around in there. And while we can't deny that this is pretty adorable, it's probably not something we'd recommend. Courtesy of Flickr: romana klee.

We all like our condiments; we're a nation that loves to dip our foods into sauces. But there's condiment love, and then condiment obsession. This is definitely a demonstration of an obsession, and maybe even a tad beyond. Courtesy of Flickr: craigemorsels.

Did anybody tell the owners of this fridge that you don't need to refrigerate citrus fruit? They sure could save a lot of space if they took out all those oranges. Courtesy of Flickr: Risager.

If you need a bit of mustard, you know who to ask. This fridge has got mustard in nearly every variety. And you know what? There's no ketchup to be seen. Courtesy of Flickr: LoopZilla.

This is the refrigerator you wish you had when you were a kid (and probably still now). With it's cool double doors, and fully stocked with ice cream, nuggets and milk. Courtesy of Flickr: becca.peterson2.

Some people don't need much to be happy -- or to eat. For some, light beer and a couple of condiments are really all that's needed in the fridge. Courtesy of Flickr: J$.

Need we say more? Despite there being some good, wholesome, well-balanced ingredients inside this fridge, they have MD 20 20. And that cancels all the good stuff out. Courtesy of Flickr: seaofteeth.

No judgement from Kitchen Daily on sriracha being the most important (only) item in someone's fridge. What we don't understand is why you'd chill it. (It must just be a matter of personal preference.) Courtesy of Flickr: Burin Asavesna.

This is one well organized fridge. And it's well equipped with good-for-you foods like pears, cantaloupe and strawberries. Courtesy of Amanda Heckert, Intern, Kitchen Daily.

swizzysays:

BunniRidge:my husbands eats a lot of eggs...

Scott McNeely:

katieisalameass:This is my fride, I am a healthy eater, as you can tell. I drink only water. Besides that Cream Soda hidden in the back. Only about one a year. :] - Katie Rush, Cincinnati, OH

ohhplease:

Donna Planas:Our dearly departed Tito loved to jump into our old refrigerator.

BuffaloChicken Cluckson:Moved in 4 days ago.