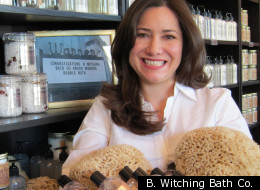 One of the reasons I started my website, MarloThomas.com, was to have a place for women to come together and dream. Women should know that they don't have to hold on to an old dream that has stopped nurturing them--that there is always time to start a new dream. This week's story is about a woman who walked away from her Wall Street job to pursue her grandmother's dying wish.
By Lori Weiss
By all appearances, Barbara Bruce-Ross was living the life many women dream of. She was a financial rock star, working on Wall Street and bringing in a six-figure salary. She'd leave the office when the market closed at 4 p.m., make a stop at Neiman Marcus and maybe take a yoga class -- then she'd make her way home to her very successful husband and an apartment overlooking Manhattan.
But success and happiness don't always travel in pairs -- that seemingly perfect life was crumbling from the inside. With her marriage on shaky ground, Barbara found herself spending more and more time in the safest place she could find: at her aging grandmother's side, trying to figure out what was missing in her life.
"My grandmother saw how unhappy I was," Barbara recalled. "I was trying to numb my pain by hanging out in New York City's party scene, and Gram didn't like that. She said, 'Maybe you need something else to do.' And then she pulled out two boxes of notebooks filled with page after page of elegant script and told me to take them home."
The notebooks were filled with formulas for lotions and creams that her grandmother had begun creating at home in the 1960s. The ingredients for each of these therapeutic elixirs had come from her garden -- a floral playground where Barbara's fondest childhood memories lived, a place where she'd spent hours and hours as her grandmother tended to roses and lavender.
"I got a lot of bee stings," Barbara said with a smile, "but even those are fond memories. My grandmother would always have some sort of balm to soothe over the pain -- and she would sing these sweet lullabies as she lovingly applied them."
For her grandmother, Alice Bruce, these lotions would eventually become her own restorative cure. At the age of 49, when her husband -- Barbara's grandfather -- passed away unexpectedly, Alice poured herself into her home remedies, eventually opening a store in Greenwich, Connecticut, where she sold her fragrant creams. Decades passed, Alice grew ill and the store would ultimately shut down.
But the formulas for her home-grown beauty lotions would survive -- written in those very notebooks that she had given to Barbara. Just as she had done so many years before, Gram was offering a solution to relieve Barbara's pain.

"I thought she was crazy," Barbara said with a chuckle. "I told her, 'I'm not a chemist. I'm a financial person. I buy my creams. I get my face done by someone.' Still, I took the boxes home out of respect for my grandmother and stashed them in a corner -- until one night, when I just couldn't ignore them anymore.
"I started going through them and thought Where am I going to get pig fat," she said laughing. "The formulas were a little antiquated. That's when I started Googling and researching and talking with chemists."
Barbara kept her day job, but hired a chemist who was based on the west coast. The time difference between their cities would prove to be a godsend, as it gave Barbara three extra hours to work on her grandmother's formulas after the markets closed.
"I was so excited because I knew Gram was going to get to see her formulas reworked. What a great gift that would be!"

Once Barbara began ordering ingredients and experimenting in her kitchen, she was hooked. She began with bar soaps and, before she knew it, her home was filled with hundreds and hundreds of samples. The fragrances that were so familiar to her as a child -- gardenia, peony, hydrangea and roses -- were surrounding her once again, and the slow tranquil process of making each batch seemed to bathe her soul.
"The art of soap-making, just like working with clay, is such a delicate process," Barbara explained. "I just lost myself in it. It was such a gift because it allowed me to think about my life and what really mattered.
"Once I got the bar soaps down," she continued, "I started experimenting with lotions and liquid soaps. I thought, if I could make those, I could create the perfect basket for my grandmother."
But before Barbara could deliver the basket, Alice passed away. Heartbroken, Barbara once again sought solace in her grandmother's garden -- and basement -- where she took her soap-making to the next level.
"Something kept nudging me along. Maybe it was my grandmother -- I don't know. But I just couldn't stop."
Before she knew it, Barbara was walking the floor of the Health and Beauty Show at New York's Javits Convention Center, taking a crash course in the beauty business. Having mastered soap-making, she now wanted to learn the secret to creating lotions -- never realizing that, unlike soaps, lotions are a far more complicated process, and regulated by the FDA. She felt completely overwhelmed.
"I went to the bathroom and locked myself in a stall and cried," she remembered. "All these people knew more than I did. I hadn't been in a position like that for 15 years."
But even in her despair, she kept hearing her grandmother's voice saying, Barbara, you don't have to be a chemist, you're a businesswoman. And so she moved forward -- naming her company B. Witching Bath Co., an ode to her family name and the magic lotions that her grandmother had created.
Soon Barbara was selling more than 50 varieties of bar soaps online, and opening a small store in Ridgewood, New Jersey, which her sister and cousins would run. She continued working on Wall Street by day -- and researching the right formulas for lotions and creams at night -- stocking away the money she needed to fund her grandmother's dying wish.
Finally, at the age of 40, Barbara was ready to begin manufacturing full-time. That's when she announced that she was walking away from Wall Street.
"My co-workers thought I was crazy. Over and over again they told me there was no way I was going to make any money. But I wanted to be happy -- and this made me happy."
With manufacturing plants in Seattle and Ohio, today Barbara is producing more than 200 products, each one inspired by something from her grandmother's garden. She's opened a corporate office and second store in Hawthorne, New Jersey, and her lotions, creams, liquid soaps, bubble baths and candles are being sold in more than 700 boutiques nationwide.
Finally, success and happiness have arrived together -- both in business and in Barbara's personal life. She's now joyfully remarried and teaching her four-year-old daughter, Sophie, all the lessons her grandmother shared with her -- the most important being, how to find happiness in simple things.
"Once again," Barbara said, "she found a way to soothe even the worst stings."
For more information on B. Witching Bath Co. products, you can visit http://www.bwitchingbathco.com/.
It Ain't Over: Barbara Bruce-Ross
Barbara Bruce-Ross, the founder of B. Witching Bath Co., stocks the shelves in her Hawthorne, New Jersey store. At age 40, she quit her Wall Street job to pursue her dream of reformulating her grandmother's beauty products.

B. Witching Bath Co. began with bar soap. Now the company is constantly expanding its product lines. Here, a spring display in the Hawthorne store takes center stage.

The company's first brick-and-mortar store in Ridgewood, New Jersey could easily be one of the smallest retail spaces in the country. The store is six feet wide and thirty feet long and was once an alley between two buildings.

When B.Witching Bath Co. opened up their corporate office in Hawthorne, New Jersey they saved some space for a second store. They never have to go far to find out how customers feel about their products.

New Jersey Mayor Richard Goldberg cut the ribbon at the opening of B. Witching's corporate headquarters and new store in Hawthorne.

Alice Bruce, Barbara's grandmother, believed in enjoying the simple things in life, which always included the July 4th parade. Here she is with Barbara at age 7.

In the 1960s Alice Bruce opened a store that specialized in healing lotions and creams. Each of the formulas, which she would later pass on to Barbara, began in her garden. Here, Gram at eighteen years old, is enjoying a day at the beach with her two younger brothers, Elias and Charles.

Barbara's daughter Sophie is already getting a jump start on her career at B. Witching Bath Co.! Here she is with mom -- experimenting with formulations at corporate headquarters.

Martha, one of the B. Witching logistics managers, helps Barbara inspect a shipment of coconut milk candles.

Barbara cuts the bar soap that will be sold in B. Witching's retail stores.

No matter how much the company grows, Barbara remains hands-on with every step in the process. Here, she approves fragrance oils before they move on to the manufacturing line.

Barbara works with Leslie, the graphic designer for B. Witching Bath Co., to redesign the packaging for the company's Heirloom Tomato Kitchen and Garden liquid soap.

With B. Witching products being sold in more than 700 stores nationwide, Diana, the company's wholesale sales manager, makes sure everyone's shelves are stocked.

Nikki Cascone, a former Top Chef contestant, assists Barbara with the launch of B.Witching Bath Co.'s Spearmint Kitchen and Garden Soap collection at the New York International Gift Fair.

Here, the "sample girls" at the B. Witching Bath Co. booth pose at the New York International Gift Fair as they prepare to greet thousands of retail buyers.

B.Witching Bath Co.'s One-hundred Roses line of products won "Self" Magazine's award for best bath soap -- beating out industry giants like Neutrogena, Origins and Revlon!

B.Witching Bath Co.'s One-hundred Roses line of products was inspired by the way Barbara's grandfather proposed to her grandmother -- with a gift of one-hundred roses.

Inside the Ridgewood store a customer stocks up on her B. Witching Bath Co. staples, while store manager Kate helps her package up the goods.

The day Country Living Magazine hit the stands with a feature about B. Witching Bath Co., four hundred orders came in to the company's e-commerce site. Here, Barbara helps Samantha, a sales associate, pack the last box of the day.

Inside the Hawthorne store, customers learn how to mix bath salts, herbs and essential oils in a B. Witching fashion.

Posing with her box of goods, Kathy Lee Gifford is a big fan of B. Witching Bath Products.

Kat Von Dee is a big fan of B. Witching Bath Co., but what she didn't know is that she has fans inside the company as well. Here, she poses with Leslie, B. Witching Bath Co.'s graphic designer.
Add Marlo On Facebook:
Follow Marlo on Twitter:
Weekly Newsletter

Sign up to receive my email newsletter each week - It will keep you up-to-date on upcoming articles, Mondays with Marlo guests, videos, and more!

Sign up here