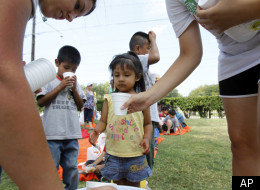 Job prospects look good for those trying to break into the nonprofit industry.
According to a recent survey released by Nonprofit HR Solutions, 43 percent of nonprofits will be hiring new workers this year. Of the 450 organizations queried, health and human-service nonprofits said they are the most likely to bring on new workers in 2012.
So where should a job-seeker looking to change the world begin her search?
Recruiters shared their top 10 go-tos for scouting out potential applicants. Click through our slideshow below to find out where you should launch your hunt.
SLIDESHOW:
The no. 1 place recruiters look for applicants, Craigslist.org requires no log-in or fee to peruse its listings, which range from experienced field organizer, to eco-startup intern. Of those surveyed, 23 percent of recruiters they were "very satisfied" with their experience on the website, according to the 2012 Nonprofit Employment Trends Survey.

Those looking for nonprofit jobs on Linkedin can look through an exhaustive, well-sorted list and get the added benefit of posting a resume, connecting with potential employers and getting recommendations from people who know their work best.

By connecting people, organizations and resources, Idealist.org aims to "to find practical solutions to social and environmental problems." Among its 8,256 jobs worldwide, employment-seekers will find opportunities to help change the world by working at places such as the Human Rights Campaign and the Special Olympics.

For people looking to work in the noprofit sector, Monster.com has 1000-plus opportunities that run the entire gamut. Seasoned workers can find CEO positions and those just starting out can launch their careers as community relations interns.

CareerBuilder posts thousands of job listings in the nonprofit sector and 60 percent of recruiters surveyed said they were "very satisfied" or "somewhat satisfied" with their experience searching for talent on the site.

Though nonprofits are still looking to local newspapers to post position openings more so than they are relying on social-networking sites, 42 percent of those polled in the Nonprofit Employment Trends Survey said that using social networking sites has had a "positive impact on candidate quality."

The NonProfit Times, a business publication and website for nonprofit managers, connects organizations with industry recruiters through its Career Resources. The site is searchable by state and job title and provides career tips, strategies and special reports, including the best nonprofits for which to work.

ExecSearches.com (formerly philanthropycareers.org) lists jobs posted for and by nonprofit, government, education and health sector organizations. Those looking to commit their life's work to making a difference can narrow their search by looking up the cause they're most passionate about, whether it be hunger or nutrition.

Focused exclusively on the nonprofit sector, OpportunityKnocks.org is a one-stop-search spot for those looking to work for a charitable organization.

CEO Update reports senior-level openings at associations, professional societies and nonprofits. Overall, 58 percent of recruiters said they were "very satisfied" or "somewhat satisfied" with their experience finding potential employees on CEO update, according to the Nonprofit Employment Trends Survey.
Learn more about the hiring trends in the nonprofit sector from the infographic below
INFOGRAPHIC: