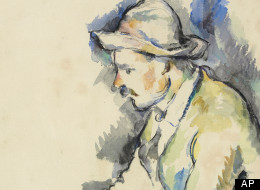 A rare watercolor study by the French Post-Impressionist painter Paul Cezanne will be auctioned at Christie's in New York soon. For over sixty years, the piece was thought to be lost, but was recently discovered in the home of a prominent Texas collector after he died. The piece is expected to sell for up to $20 million on May 1st as part of the auction house's "Impressionist and Modern Art Evening Sale", and is a study for "Card Players," one of Cezanne's best-known series, which was painted in the late 1800s. Vanity Fair reported in February that a single painting from the series sold earlier this year for over $250 million to anonymous collectors in Qatar.
In 2010, the five-painting series was exhibited in a traveling show by the Metropolitan Museum of Art in New York and Courtauld Gallery in London; the Guardian called it "a once-in-a-lifetime opportunity." The sketch up for auction this May was previously known from a black-and-white photograph, so this colorful discovery is sure to pique the interest of collectors.
The previous record paid for a single painting was in 2005; the New York Times reported that David Geffen sold Jackson Pollock's famous "5" painting for about $140 million to David Martinez, a prominent private art collector. Prior to that, the record was $135 million for Gustav Klimt's "Adele Bloch-Bauer I," which was purchased by Ronald S. Lauder earlier that same year, who then donated it to the Neue Gallery in New York.
Coming up: on May 2nd, an 1895 version of "The Scream" by the painter Edvard Munch is up for sale at Sotheby's and is expected to fetch a respectable $80 million.
Check out a roundup of pricey art sales in the slideshow below.
Vincent Van Gogh's "Irises" was painted right before his death in 1890. In 1987, "Irises" was temporarily the most expensive painting ever sold when Alan Bond snapped it up for $54 million. However, the collector realized he didn't have enough funds in the end, so it now hangs in the Getty Museum.

Pierre-Auguste Renoir, "Dance at the Moulin de la Galette" (1876). In 2009, the painting sold for $78 million at Sotheby's, making it the fifth highest amount ever paid for a painting at auction at the time. Two versions of this painting exist. one resides at the Musée d'Orsay in Paris, and the smaller version was sold on May 17, 1990 to Ryoei Saito, a Japanese collector who was later arrested for attempting to bribe authorities.

"Garçon à la Pipe" ("Boy With A Pipe") is one of Pablo Picasso's best-known youthful works, and was painted when he was 24. On May 5, 2004 it sold for $104.1 million at Sotheby's.

The previous record price for a painting was $135 million for Gustav Klimt's "Portrait of Adele Bloch-Bauer" which was purchased by Ronald S. Lauder and then donated to the Neue Gallery in New York.

Max Ernst's "The Stolen Mirror" sold for $16,322,500 -- tripling the previous record for the artist -- back in November 2011. The work was painted in 1941.

LONDON, ENGLAND - MARCH 23: Employees George Foren (L) and Matthew Fancy hold Banksy's 'Kate Moss 2005' at Bonhams on March 23, 2012 in London, England. The painting, estimated at GBP 30,000 - 50,000, USD 48,000 - 79,000, 35,000 - 59,000 euros forms part of the Urban Art Sale, which takes place at Bonhams on March 29, 2012. (Photo by Peter Macdiarmid/Getty Images)

Adriana Varejão, Parede com incisões a la Fontana II (Wall with incisions a la Fontana II), Oil on canvas and polyurethane on aluminum and wood, 2001, 70.9 x 98.4 in. (180 x 250 cm), Christie's London, Wednesday, February 16, 2011, Lot 58, Post-War & Contemporary Art Evening Auction, Estimate: $310,000-450,000, Sold For: $1,769,505, Courtesy Christie's Images Ltd. 2011. As Bruce Helander writes, "It set two milestone records: being the first work of Brazilian contemporary art to reach the $1 million mark and also a career achievement for the artist (regrettably not such a common occurrence for female artists, no matter her homeland)."