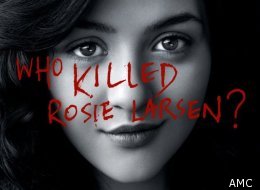 Who killed Rosie Larsen? That's the question "The Killing" proposed in its first season on AMC, but then famously never answered in its 13-episode run.
Now, with Season 2 looming (two-hour premiere airs Sun., Apr. 1, 8 p.m. ET), do viewers even remember the major players? Or care?
We can't answer the latter -- the ratings will be an interesting thing to track this season, for sure -- but if you need a refresher on "The Killing," we've got you covered with our handy whodunit guide, catching you up on what happened and where we left off, and also weighing the odds of each major character being "The Killing's" killer.
Of course, any one of these people could be the killer, and the odds will fluctuate as "The Killing" Season 2 goes on. AMC has already stated that we won't know the identity of Rosie Larsen's killer until the Season 2 finale, in fact. (Yep, that drains a bit of the suspense, doesn't it?) And it's also highly possible that none of these people are to blame and we haven't even met Rosie's killer yet. If the first season of the series proved anything, this show has no problem spending time on largely misleading leads, only to pull a big twist (or three) at the last minute, so we'll have to stay tuned to see what direction "The Killing" goes.
For now, click through the slideshow below for a reminder on where everyone we already know stands, including arguments for why certain non-suspects shouldn't be overlooked. And if you have your own theories, share them in the comments.
Poor Rosie Larsen ... but let's not forget that this Seattle teenager isn't all innocent. Dating a bad boy, sneaking around town, borrowing her aunt's ID, frequenting a local casino and selling her time (and maybe more) at high-end escort service Beau Soleil. Somehow this sweet girl with the butterfly bedroom has plenty of possible suspects who could've murdered her. Let's take a look at the major players in this seemingly unsolvable case.

Who: The Nicorette-gnawing detective heading up Rosie Larsen's murder investigation, Linden is also a mediocre mother and a pretty neglectful fiance. Odds She Killed Rosie: A million to 1 Why?: She's tirelessly investigated every angle of this murder, even if the right suspects haven't been found yet ... or have they?

Who: Linden's partner with a shady past and an even shadier end to last season -- it was revealed that he helped pin Rosie's murder on Richmond with doctored photos and a secret conspirator. Odds He Killed Rosie: 10 to 1 Why?: That's the big question with Holder -- why would he kill Rosie? And if he didn't kill her, why is he helping cover up who did? We don't think he'll be named the killer, but he sure looks suspicious.

Who: Rosie's dad who may have a criminal past, but truly heartbroken over his daughter's death and how it's tearing his marriage and family apart. Odds He Killed Rosie: 1,000 to 1 Why?: Stan and his wife and sons were camping when Rosie went missing, and he even tried to take justice into his own hands (see: Bennet Ahmed) when he thought he knew who murdered his daughter. Stan's a hothead, but he's innocent.

Who: Rosie's mom who is so distraught about her daughter's death that she tells her ex-henchman of a husband to "take care of" a suspect (who was then found to be innocent), and eventually leaves her husband and kids with her sister while she grieves. Odds She Killed Rosie: 500 to 1 Why?: Mitch is so devastated, it'd be hard to imagine it's an act; plus, she was with her husband and sons on that camping trip. But stranger things have happened on this show.

Who: Seattle's mayoral candidate who met Rosie at a rally and received emails sent to an address suspected to belong to "Orpheus," a drowning-obsessed client of escort service Beau Soleil, where Rosie was moonlighting. Richmond was last seen with a gun pointing at him (see: Belko) after being taken into custody at his campaign rally. Odds He Killed Rosie: 20 to 1 Why?: Richmond seems like the most obvious suspect so far, but that's only because he's still in handcuffs. Would a grieving widow and political up-and-comer really risk it all for a teenager?

Who: Rosie's aunt (Mitch's sister), who's helped take care of Stan and the kids since the murder. Odds She Killed Rosie: 10 to 1 Why?: Terry's been helpful around the Larsen house since Rosie died -- almost too helpful. Feeling guilty for getting her niece involved in escorting, perhaps? Or does she know even more secrets about her death?

Who: Stan's employee who has an unhealthy relationship with his mother, and an even unhealthier obsession with Stan's family, especially Rosie. Belko helped Stan put then-suspect Bennet Ahmed in intensive care, then pointed a gun at the latest suspect, Darren Richmond, in the finale. Odds He Killed Rosie: 100 to 1 Why?: Belko's crazy, that's for sure, but his fascination with Rosie seems less like a killer after prey and more like a silent, lonely stalker.

Who: Richmond's campaign adviser and one-time lover, Gwen is also the daughter of Senator Eaton. Odds She Killed Rosie: 25 to 1 Why?: She's a master at keeping secrets (even if her affair with Richmond was pretty obvious to everyone) and she doesn't seem like she's OK with losing ... campaigns or boyfriends.

Who: The Senator and Gwen's father, Eaton appears to have no real ties to Rosie Larsen ... but none of these people are as they appear. If someone was looking to frame Richmond as "Orpheus," the Senator definitely has the means. Odds He Killed Rosie: 25 to 1 Why?: We haven't seen enough to call him a suspect or rule him out entirely, but you don't hire Alan Dale unless you give him something juicy -- hopefully his Season 2 storyline will kick things into high gear.

Who: Richmond's weaselly campaign manager, Jamie always seems to be playing both sides, and he definitely appears to know more than he's letting on about a lot of things, including the campaign car Rosie was found dead in. Odds He Killed Rosie: 5 to 1 Why?: Jamie is a spin pro and master manipulator, but he's also confident in Richmond's innocence ... almost like he knows who really did it. He has access to campaign cars, and he's also commented about how bad he is at relationships, making him a prime Beau Soleil escort service client. Think about it.

Who: The incumbent Mayor, and Richmond's sole opponent, is running a dirty campaign, and he vehemently denies reports that he got a 19-year-old intern pregnant ... but how much do you really believe a career politician? Odds He Killed Rosie: 40 to 1 Why?: We don't really think someone would murder a girl and frame their opponent just to win an election -- especially not a mayoral election. But Adams could've easily just set out to frame Richmond for being with an escort (in this case Rosie), and the plan got out of hand somehow.

Who: Stan's old mafia boss, Janek loaned Stan money to fix his financial issues, but that's not without a price. Odds He Killed Rosie: 75 to 1 Why?: Killing someone's daughter would be a pretty elaborate way to bring her dad back into the mafia fold, but you don't become the boss without some shifty maneuvers.

Who: Rosie's teacher, who was the No. 1 suspect ... until he wasn't. Ahmed was beaten so badly by Stan and Belko, that we last saw him in intensive care Odds He Killed Rosie: 400 to 1 Why?: Was his relationship with Rosie a little strange? Absolutely. But Ahmed was already found innocent of the murder, and we don't think his crazy pregnant wife killed Rosie either.

Who: Head of the Wapi Eagle Casino where Rosie was last seen alive, via a haunting ATM photo. Odds She Killed Rosie: 2,000 to 1 Why?: Even if Chief Nicole thought Rosie was disgracing her sacred Indian casino land with her underage escorting, killing her would be a pretty extreme way to retaliate.

Who: Rosie's wealthy (and pretty sleazy) ex-fling, Jasper was an early suspect, but was soon cleared. Odds He Killed Rosie: 300 to 1 Why?: Yes, Jasper might've been arrested once before for stealing a car, but that doesn't make him a killer. His alibi checked out for the night of Rosie's murder ... we're still just wondering why he tried so hard to cover things up if he's totally innocent.

Who: Kris is Jasper's mysterious drug-connected friend and Rosie's old neighbor; he was seen in a video with a girl thought to be Rosie on the night of her murder, but it was Rosie's friend Sterling. Odds He Killed Rosie: 500 to 1 Why?: Kris might have a bad boy look and a bad attitude, but he was already questioned (with some force) by Linden and Holder, and they've cleared him. He said Rosie was always nice to him and he would never hurt her, and for whatever reason, we believe him.

Who: Sterling was Rosie's BFF, but she's told plenty of lies since Rosie disappeared, including where Rosie was that weekend. (Hint: not staying at her house!) Odds She Killed Rosie: 100 to 1 Why?: Even if Sterling was jealous of Rosie, she was a little occupied dressing like her and getting violated by her friend's boyfriend and his friend Kris to be killing Rosie, too. But we still don't get why she got that nosebleed in class the day they found out Rosie was gone ...

Who: A known playboy, this millionaire entrepreneur wrote a check for the Richmond campaign to spite Mayor Adams. Odds He Killed Rosie: 10 to 1 Why?: He definitely likes to get what he wants and the political decisions being made in Seattle are directly affecting his cashflow, but the sketchiest thing about this seeming outsider? He's got prior arrests for soliciting prostitutes.

Who: Rosie's younger brothers, who've gotten the short end of the stick. Not only did they lose their sister, but now their mom has abandoned them, too. Odds They Killed Rosie: A million to 1 Why?: Rosie was the golden child, yes, but she was also their big sister. Plus, if you think it'd be hard for Stan or Mitch to sneak away from their camping trip to kill their daughter, imagine kids having to do it without drivers' licenses.

Who: Linden and Holder's boss, who we only saw briefly in Season 1 ... which somehow makes him feel even more suspicious. Odds He Killed Rosie: 5 to 1 Why?: If we're basing odds on who has the power to pull off a big-time cover-up, Oakes looks mighty suspicious. We don't know what his motives would be, but it's possible that he and Richmond share a past that would put his career in jeopardy if Richmond became Mayor.

Who: The social worker who saw Sarah Linden through foster care growing up and now helps Linden and her son Jack when they're in a jam; Reg has also seen how attached Linden can get to murder cases like this one. Odds She Killed Rosie: 5,000 to 1 Why?: Reg is the one trying to keep Linden and her son together -- and although Linden doesn't take too kindly to Reg's accusation that she's neglecting her son, Reg is only looking out for her best interest. If she's involved, that's a twist we'd never stop laughing at.
"The Killing" Season 2 two-hour premiere airs Sun., Apr. 1, 8 p.m. ET on AMC.