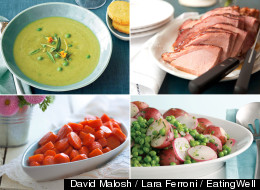 We're making Easter dinner one step easier for you with our ideas for Easter menus, saving you precious time.
We've put together five amazing Easter menus, including a classic Easter ham menu, a Mediterranean lamb menu, a rustic Italian porchetta menu, an Asian-style fish menu, and a vegetarian menu. See our slideshow below to discover the recipes you'll want to cook -- and eat -- this upcoming holiday. And if you're stumped on what to make for dessert, check out our gallery of Easter desserts, with everything from showstopping cakes to effortless trifles.
Which menu will you be making this coming Easter? Leave a comment below.
This classic menu gives you the sweet baked ham you desire on Easter Sunday as well as a number of dishes that speak to the spring season. Enjoy a creamy asparagus soup to start and serve carrots and a potato and pea salad as sides. SEE NEXT SLIDES FOR RECIPES

Savory parmesan shortbread makes a nice pairing with this elegant soup. The recipe is easy to make when you form the dough into a log, then slice and bake. The creamy pureed asparagus soup has all the flavor of spring and includes fresh peas, which add sweetness. Get the Asparagus Soup with Parmesan Shortbread Coins recipe

Brown sugar, chili powder and warm spices give this ham a sweet and savory flavor that's great for Easter. Spread the ham with Dijon mustard to help the rub stick to the meat. During baking the brown sugar forms a handsome crust. Get the Brown Sugar and Spice Baked Ham recipe

The natural sweetness of carrots is heightened by the addition of honey in this recipe. A pinch of cayenne adds gentle heat. For best flavor and texture, saute the carrots first, then add a bit of water to steam under cover. This side dish will pair well with baked ham. Get the Honey-and-Chile-Glazed Carrots recipe

This side dish has the essence of spring with lots of fresh peas and peppery radishes. Use new potatoes or small red potatoes, which are the most tender for this warm salad. Garnish with a medley of chopped fresh herbs before serving. Get the Pea and New Potato Salad recipe

This menu takes cues from Mediterranean culture by featuring the typical flavors you'd find in an Easter celebration. Start the meal with deviled eggs, which are flavored with hummus. Serve a flavorful roast rack of lamb with fluffy couscous and braised artichokes. SEE NEXT SLIDES FOR RECIPES

Deviled eggs make a great holiday appetizer, but this recipe takes a cue from the Mediterranean. Hummus adds another level of flavor and texture to the yolk filling. Sprinkle the eggs with sesame seeds to give your guests a hint at your secret ingredient. Get the Hummus Deviled Eggs recipe

This recipe for rack of lamb couldn't be more straightforward. Sear the rack until it's crispy and brown, then transfer it to the oven to roast just until medium-rare. While you let the lamb rest, prepare the shallot sauce in the roasting pan. Carve the lamb at the dinner table and impress your family. Get the Rack of Lamb with Mustard-Shallot Sauce recipe

Couscous is such a rewarding side dish -- not only is it fluffy and flavorful, it's also quick to make at about 15 minutes. This recipe includes toasted pine nuts and chopped apricots. This side dish makes a perfect accompaniment for lamb. Get the Couscous with Dried Apricots and Pine Nuts recipe

A plate of baby artichokes really says it's finally spring. This recipe is as simple as it gets: boiled artichokes with a drizzle of olive oil and lemon juice and a garnish of parmesan shavings. The dish works well as a side dish or appetizer. Get the Baby Artichokes with Olive Oil and Parmesan Shavingsrecipe

This menu is for those who are vegetarian or simply love the bounty of fresh spring produce. Start with a salad packed with herbs that will awaken the palate. Next enjoy a "spring" pizza topped with asparagus. For side dishes, serve a warm barley salad that is both nutritious and delicious, and a lively bean salad with mint. SEE NEXT SLIDES FOR RECIPES

This appetizer salad is packed with spring flavor from a host of fresh herbs, including parsley, basil, chives, mint and tarragon. A cooling and creamy lime dressing adds some nice tang to balance all the potent herbal flavors. Get the Herb-and-Endive Salad with Creamy Lime Dressing recipe

A pizza is an ideal main dish for this vegetarian menu. But this isn't just any pizza, it's a spring one. Spears of tender asparagus spiral around the whole-wheat dough, which is scattered over with fontina cheese and chives. Use store-bought pizza dough to make this recipe even easier. Get the Spring Pizza recipe

This salad is incredibly filling and satisfying with fiber-rich barley, tender baby spinach, sauteed mushrooms and crumbled tofu. Basil and mint add punches of fresh flavor. A simple lemon vinaigrette ties the warm salad together. Get the Barley-and-Spinach Salad with Tofu Dressing recipe

A lime juice and buttermilk dressing enlivens this refreshing salad of tender butter beans. If you can't find fresh butter beans, frozen lima beans also work well. Serve the salad chilled for best flavor and add the mint just before serving. Get the Butter Bean Salad with Lime and Mint recipe

A succulent pork roast sits at the center of this amazing Italian menu. Start the dinner with an easy polenta appetizer topped with sweet tapenade. For sides, you'll want dishes that help balance the richness of the pork, like a warm rice salad with peas and mint, and a tangy broccoli rabe saute. SEE NEXT SLIDES FOR RECIPES

These polenta wedges make a rustic and very flavorful appetizer before dinner. Simply slice store-bought polenta into rounds and broil until nice and crisp. Meanwhile, prepare a quick tapenade of sun-dried tomatoes, capers, garlic and parsley in the food processor. Get the Polenta Wedges with Tomato Tapenade recipe

Italians know how to make pork amazingly juicy and flavorful, for example, this porchetta. The recipe uses center cut pork loin and a pork belly, which gets wrapped around the loin. This method will produce succulent meat and very crispy skin. A layer of herbs, spices and garlic is tucked in between the meats, perfuming the roast with wonderful flavor during roasting. Get the Oven-Roasted Porchetta recipe

A simple rice side dish is all you need to pair with a wonderfully flavorful roast. Fresh peas stud this rice salad, adding bursts of sweet flavor. Toss the rice with lemon vinaigrette and fresh mint just before serving. Get the Warm Rice Salad with Peas recipe

The pepperiness of broccoli rabe is tamed in this side dish by the addition of sun-dried tomatoes and a bit of balsamic vinegar (or use sherry vinegar for more tang). It's the perfect side dish to counterbalance the richness of a pork roast. Get the Broccoli Rabe with Sun-Dried Tomatoes recipe

The sweet, sour, salty and umami flavors of Asian cuisine are cast as the stars in this menu. A brothy ginger and mushroom soup starts of the meal. The main dish is a glazed salmon fillet that will make an impressive entrance. Vegetable fried rice and stir-fried bok choy are the supporting sides. SEE NEXT SLIDES FOR RECIPES

Using dried mushrooms in this soup adds a unique depth of flavor to the broth. Ginger adds a gentle heat. Once you add the shredded cabbage, carrots and edamame to simmer, the soup is done in just minutes. Serve the soup as a refreshing start to dinner. Get the Ginger-Shiitake Soup with Cabbage and Edamame Beans recipe

Roasting an entire fillet of fish makes for a unique presentation come dinner time. This salmon recipe is flavored with a sweet and tangy glaze that's made from sherry, soy sauce, ginger, garlic and brown sugar. Use it to brush the salmon during roasting and reserve a portion to serve as a sauce. Get the Soy-and-Ginger-Glazed Salmon recipe

Plain rice is fine as a side dish, but fried rice is even better. This version is packed with vegetables like broccoli and carrots and has eggs and peanuts for additional texture. For best results, make the recipe using cold rice. Get the Vegetable Fried Rice recipe

Simply sauteing bok choy in garlic will give you a delicious side dish that pairs well with fish. To create a saucy coating for the cabbage, add a bit of stock thickened with cornstarch to the skillet near the end of cooking. Get the Bok Choy with Garlic recipe

In Greece, the Easter holiday celebration is bigger than Christmas. Lamb is the typical main course of a Greek Easter menu.