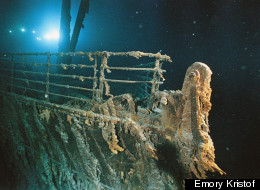 Editor's Note: The National Geographic announced on June 28 that the Titanic exhibition will be extended to Sept. 9 due to popular demand. This post has been updated to reflect the new end date.
WASHINGTON -- There's hardly a catastrophe like the sinking of Titanic that elicits as much wonder as it does horror. The National Geographic Museum taps into the public's universal fascination with its new exhibition, "Titanic: 100 Year Obsession," opening Thursday.
The exhibition covers the history of the ship, which as of April 15 will have been at the bottom of the North Atlantic for 100 years. It also details research and conservation efforts by National Geographic Explorers-in-Residence Robert Ballard, who led the team that discovered the wreck site in 1985, and director James Cameron.
Cameron conducted a whopping 33 submersible dives to the site during and after his work on his Oscar-winning film, "Titanic," and has maintained an active curiosity with the ship since the film came out in 1997. He's now gearing up to release a 3-D version of the record-breaking movie, which for 12 years was the highest-grossing film in history until another Cameron film, "Avatar," knocked it off that pedestal.
"Titanic: 100 Year Obsession" artifacts include an 18-foot model of the ship, lifeboats and life-vests from Cameron's film and the remotely-operated vehicle used by Cameron to explore the interior of Titanic for the first time.
The exhibition runs through Sept. 9 and is on display from 10 a.m. to 6 p.m. daily. Tickets are $8 for adults.
Click through the below slideshow for a peek at the exhibition.
Bow railing of R.M.S. Titanic is illuminated by Mir 1 submersible behind the forward anchor crane.

Mir 2 lights expose deck features on the foredeck showing the port anchor winch of the R.M.S. Titanic.

Another view of Titantic.

A model of the Titanic.

A model of the Titanic.

A model of Titanic.

An item from the exhibition.

Recreated artifacts from R.M.S Titanic.

A lifeboat used in the film "Titanic."

This model of the wreck site is scientifically accurate and was created for the film "Titanic" with data from more than 30 expeditions that filmmaker James Cameron made to the actual Titanic wreck site.