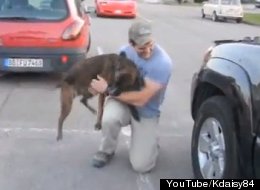 Surprise homecomings rock, but they're even better when they involve an adorable puppy.
All it takes is two words to make Chuck's life complete: "Daddy's home."
The boxer eagerly leaps out of the trunk of the car and into the loving arms of his soldier owner, who's as thrilled to see his best friend after eight long months. The two exchange hugs and affection, but the pup is so ecstatic he can barely contain himself.
This isn't the first time this soldier has been greeted by his loving pet. After returning from deployment in 2011, the same soldier surprised Chuck by hiding around the corner.
Can't get enough of heartwarming homecomings? Check out this sailor's epic photo bomb.
(Via Cafe Mom's The Stir)