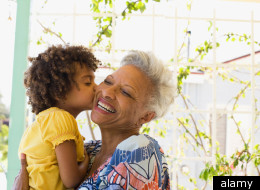 A new study by the AARP finds 90 percent of grandparents feel they are an important part of their grandchildren's lives. Many provide support with education and medical expenses, child care and more.
"Grandparenting is about more than a sense of responsibility," said Amy Goyer, AARP's Multigenerational and Family Issues expert in a statement. "This survey reinforces that today's grandparents contribute to the basic quality of their grandchildren's lives; they are the safety net for American families, helping to pay for practical expenses and necessities. We see many providing daycare services, while growing numbers even have grandchildren living with them." The AARP surveyed 1,900 grandparents between August and October last year.
Check out our slideshow for the survey's findings on the contributions of grandparents in the U.S.
Grandparents Play An Important Role In Families, AARP Study
Eleven percent of grandparents have a grandchild living with them -- this jumps to 19 percent for African-American grandparents. Of the grandparent who have a grandchild living with them, 43 percent are the grandchild's primary caregiver. Some 16 percent of grandparents provide daycare services for their grandchildren when parents are at work or school.

More than 80 percent of grandparents report speaking to their grandchildren on the phone at least once a month and more than a third communicate through new technologies such as e-mail, Skype, and text messaging. Some 58 percent of respondents said they speak to their grandchildren at least once a week.

Forty percent of grandparents reported spending more than $500 on their grandchildren over the last 12 months. They widely report spending beyond traditional gifts, most noticeably contributing to education costs (53 percent), everyday living expenses (37 percent) and medical or dental costs (23 percent). Flickr photo by: AMagill.

The majority of grandparents in the telephone survey indicated that they have discussed morals and values (78%) and religion or spirituality (66%) with at least one of their grandchildren. Other topics include peer pressure or bullying; illegal drugs; and drinking and alcohol use. Thirty-seven percent report discussing dating or sex with at least one of their grandchildren.

As a corollary, nearly half (47%) indicated that they have attended religious services with their grandchildren in the past six months. Flickr photo via: cogdogblog.

About two-thirds of grandmothers said they take their grandchildren shopping (versus 58 percent of grandfathers); 63 percent of grandmothers cook or bake with the kids, versus 48 percent of grandfathers. Men were more likely to do physical activities with grandchildren -- 63 percent versus 56 percent of grandmothers.