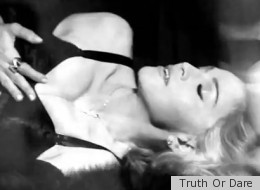 We had a good laugh a few months ago when Madonna introduced her new "Truth Or Dare" fragrance with this confusing description:
Truth: Duality. Sin is my twin. Contradictions push and pull.
Dare: To expose what lies beneath. Infinite possibility.
In this tension, we find our true selves.
Um, OK. We weren't sure what Madonna was getting at, but now that we've seen the fragrance's new TV commercial, it's pretty clear what "exposing what lies beneath" meant. Her famous body, including a rather liberal dose of décolletage, is on full display -- and apparently not everyone is happy about it.
The New York Post reports that ABC (owned by Disney) had several objections to the commercial, wishing that Madonna and her producers edit the short clip before it air in primetime. A "source" told the Post:
"ABC viewed the ad [and] came back with a list of changes. They say they want her bra digitally made bigger, and to extend higher to cover more of her chest, and her corset longer to cover more of her bottom. ABC also wants to cut another suggestive scene where Madonna writhes around."
While the requested edits sound fair, we are a bit surprised -- it's not as if network TV is cleavage-free nor is this the first time viewers have seen Madonna in a low-cut top (as a look back at her style evolution proves, below).
Check out the commercial below. Do you think this commercial is too racy for network television?
See Madonna's style evolution!
Madonna, "The Virgin Tour", June 1985

Madonna performs at Live Aid, July 1985

Madonna on the cover of Playboy, 1985

Madonna performing in Paris, Aug. 1987

Madonna performs during her 'Girlie Show' in Bercy Omnisport Palace in Paris, Sept. 1993

Jan. 1990

Madonna on her "Blonde Ambition" tour, April 1990

Madonna blows the crowd a kiss after receiving the award for Best Female Video 07 September during the 1995 MTV Video Music Awards, Sept. 1995

1996 VH1 Vogue Fashion Awards

Madonna at Vogue Fashion Awards, Jan. 1998

Madonna, "Ray of Light" video, Sept. 1998

41st Annual Grammy Awards, Feb. 1999

Performing at 2000 MTV Europe Music Awards

Madonna, 'Drowned World Tour', July 2001

2003 MTV Video Music Awards -- The kiss that rocked the world.

Madonna, April 2003

Madonna reads from her new children's book "Mr. Peabody's Apples", Dec. 2003

Madonna's "Re-Invention" Tour, May 2004

U.K. leg of Madonna's "Re-Invention" Tour, Aug. 2004

Madonna performs at Live 8 London, July 2005

Madonna and her then-husband, Guy Richie, at the TIFF Gala Premiere of his film "Revolver", Sept. 2005

Premiere Of Madonna's Documentary "I'm Going To Tell", Oct. 2005

Awards Room at 2005 MTV Europe Music Awards, Nov. 2005

Madonna plays G-A-Y at Astoria, Nov. 2005

48th Annual Grammy Awards, Feb. 2006

Madonna plays Wembley Arena during her "Confessions" world tour, Aug. 2006

Madonna performs in Germany in the European leg of her "Confessions" world tour, Aug. 2006

Live Earth London, July 2007

"I Am Because We Are" Premiere at Cannes, May 2008

Madonna performs at Dodger Stadium, with a special appearance from Britney Spears, Nov. 2008

Madonna with daughter Lourdes at the New York premiere of "NINE", Dec. 2009

Madonna holds hands with her adopted daughter Mercy James as she arrives at the 'Raising Malawi Academy for Girls' in Chinkhota, Malawi, April 2010

Macy's "Material Girl" Collection Launch with daughter Lourdes and "Material Girl" model Taylor Momsen, Sept. 2010

2011 Vanity Fair Oscar Party with daughter Lourdes, Feb. 2011

Madonna attends the 'Alexander McQueen: Savage Beauty' Costume Institute Gala at The Metropolitan Museum of Art on May 2, 2011.