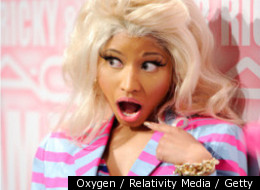 Mirror, mirror on the wall, which one of this week's reviews is the snarkiest of them all? That award might belong to "Mirror Mirror," the romantic comedy based off the "Snow White" fairytale, starring Julia Roberts, Lily Collins and Sean Bean.
While it may seem like this all-star cast can do no wrong, according to Rolling Stone, the film falls flat. "The script by Marc Klein and Jason Keller is a model of storytelling incoherence and a lot of good actors go down in its swirling drain," wrote critic Peter Travers.
Meanwhile, Nicki Minaj's new album, "Pink Friday: Roman Reloaded," isn't faring much better in the critics' eyes. According to Billboard, the album is just as schizophrenic as Minaj and her two alter egos -- and that's not a compliment.
HuffPost Entertainment has rounded up the week's snarkiest reviews just for your enjoyment in this week's installment of our "Week In Ouch" series.
This week, critics from TV Guide to The New York Times and HitFix were left shaking their heads and sharpening their critiques.
Let us know which films, albums and TV shows you think deserved the harsh critiques, and which ones you think critics should ease up on in the comments.
Nicki Minaj may have hit a commercial home run with her new single "Starships," but that doesn't mean the critics are as obsessed as her fans. In fact, Billboard.com thinks that Minaj's new pop sound may alienate "a good chunk of her core to focus on singing instead of imaginative rhymes." In short, Minaj spends more time exploring her musical identity on "Roman Reloaded" than she does perfecting one, which makes the album sound bloated and rushed.

Will Italian-Americans ever catch a break? That's the question that plagues The New York Times' Mike Hale in his review of "Brooklyn 11223," a new Oxygen reality show that focuses on three women -- Joey Lynn, Christie and Angelina -- who could easily "be the 'before' pictures of the 'Shore' stalwarts JWoww, Sammi and Snooki." Any sense that this set-up, and the ensuing fights and back biting, might be totally fictional is only reinforced by an executive producer's statement in the press kit that the show was inspired by "West Side Story."

Mirror mirror on the wall, which film is the most "incoherent" of them all? That would be "Mirror Mirror." That is, according to Rolling Stone's Peter Travers. The script by Marc Klein and Jason Keller is a model of storytelling incoherence and a lot of good actors go down in its swirling drain. Julia Roberts tries hard - way too hard - as the Evil Queen who locks up poor Snow White (Lily Collins, daughter of Phil Collins and the misfortune of this film), who has just turned 18 and is suitably restless.

TV Guide's Matt Roush didn't think anything could make him miss HBO's "Entourage." And then he saw MTV's "Jersey Shore" spinoff, "The Pauly D Project." This spinoff of Jersey Shore has possibly even less substance, as the high-haired DJ from Rhode Island gets a residency gig at a Las Vegas casino, and brings his motley crew of homeboys with him to marvel at their swank new digs.

If "Wrath of the Titans" were a sacrifice to the gods, then according to The A.V. Club's Nathan Rabin, they would probably feel gypped. Liebesman's low-energy, low-ambition Wrath Of The Titans never even aspires to be particularly good; it merely aspires to be good enough, and fails.

Katharine McPhee's Marilyn Monroe was a "hot mess" in this week's episode, "The Coup," according to The Huffington Post's Chris Rosen. "Smash" was so ridiculous that it made Rosen roll his eyes 48 times! Eyeroll-worthy moments include: 1. "I hate show business." 5. Frank singing Bob Marley. 45. "Welcome to my level."

Australian teen pop star Cody Simpson, who was once dubbed Justin Bieber 2.0, looks like he's in need of some of the Biebs' swagger. Simpson's new single "So Listen," featuring T-Pain, is a giant disappointment, says Billboard.com's RJ Cubarrubia. The chorus is the biggest letdown, with lyrics like "So listen/To to to me" and distracting, stuttering vocals. Compared with previous hit "All Day," this hook flies in one ear and immediately out the other.

Remember "Punk'd?" Chances are the Beliebers tuning in to watch "Punk'd" 2.0 on MTV doesn't remember the original series, hosted by Ashton Kutcher, either, says HitFix's Geoff Berkshire. Even less than the recent revival of "Beavis and Butthead," the new "Punk'd" isn't dependent on nostalgia fiends. In the premiere at least, it's simply looking to attract Beliebers ... Frankly, after just one episode, I'm all "Punk'd" out.