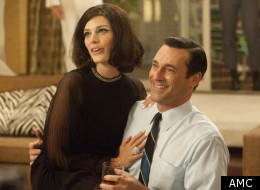 This week marked the return of "Mad Men," but if you think "Zou Bisou Bisou"-mania overshadowed the show's always fabulous fashion, think again -- that little French Canadian coquette Megan made our best dressed list, too.
We had some other favorite TV fashions from this decade, too, like a sexy man from a show you're probably not watching (but should be), an Original vampire and a "Fashion Star" mentor. But other TV characters weren't as lucky. (We're looking at you, "GCB," "New Girl" and "The Real Housewives of Orange County.")
Click through the slideshow below to see all our picks for best and worst dressed TV characters of the week, then share your nominees in the comments!
Jessica Simpson likes to sparkle, and John Varvatos is eternally in sunglasses and a scarf (peace man, we dig it), but it's Nicole Richie's style that's made "Fashion Star" worthwhile. This week's vintage beaded mustard-colored dress (paired with Christian Louboutin clogs) was stunning.

Oh, Gretchen ... as if your life hasn't been exposed enough on this show, now you've gone and gotten all Pussycat Doll-ed up on national TV. This outfit was questionable, at best, but it was the carousel horse-straddling that did the look in.

"Zou Bisou Bisou," Megan! Don Draper's new wife put on quite the show in the Season 5 premiere, but while the men of Sterling Cooper Draper Pryce were all watching jealously, their better halves were probably coveting Megan's thoroughly modern mini. This fabulous vintage number had pleated bell sleeves and a rhinestone neckline. And that cocktail ring? C'est magnifique! (Nice arm candy, too.)

Who? Yeah, I know you're not watching this show (NBC's burn-off and poor promotion didn't help), but you should be. And David Walton's sexiness is one reason why. Denim on denim with a popped collar never looked so good.

"GCB" threw a party this week. The theme: Dress as your favorite famous Texan. That's excuse enough for any of these ladies to show some skin, and ex-mean girl Amanda Vaughn (Leslie Bibb) did just that, paying homage to Farrah Fawcett and her famous poster, feathered hair included. Pretty spon-on, but a bathing suit at a non-pool party is a no-no, y'all.

When in Rome! (Or wherever she is now.) Ashley Judd's been kicking so much butt searching for her son in Europe, it's a wonder she had time to throw on something fabulous. This bright blue jumpsuit looks as cozy as it is stylish -- the perfect look for taking down some enemies.

He's the smartest guy Nick knows, but I'm saying it: Dirk's wardrobe was stupid. Nick's old college roommate popped in for an episode, and while I love Martin Starr, I don't like when his funny is hidden under too much facial hair and a stuffy scarf. Plus, the ponytail.

Rebekah (Claire Holt) got a bit of revenge on this week's "Vampire Diaries," making Damon her plaything. It's just a figure-flaunting black tank and jeans, but sometime's that's the best look for a night of torturing. Bonus points for shirtless Ian Somerhalder in this picture, of course.