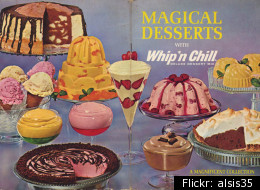 Looking at old black and white photographs of your parents (and learning that they once sported major bell-bottomed pants and long, long hair) can be both enlightening and disturbing, same as perusing old cookbooks, particularly from the 40s, 50s and 60s. And just like you can't seem to look away from those photos -- even though you know you'll never look at your parents in the same light again -- the same is true with old cookbooks that feature salmon, egg and pickle casseroles on the cover. (Even if you feel like you're going to be sick, you just can't look away).
It's that paralyzation of our gaze that had us at Kitchen Daily addictively looking at old cookbooks, and gather a handful of them in a slideshow to share with you. Some of the cookbooks were so disturbing we just couldn't bring it to ourselves to include them. Others were so great that we actually wished we had them in our own personal collection.
One quality they all shared is that they represent a part of history, a part of the way our world worked, and the way people viewed it. And for that alone, these cookbooks are all valuable in their own right. Click through the slideshow below to see cookbooks from as far back as 1917, ones that feature a no-longer-available Jell-O product or, our favorite, how to keep your man happy through your cooking.
This collection is just the tip of the iceberg -- there are plenty of important/wacky/crazy cookbooks out there. Every family has held on to a cookbook or two and passed it down, generation to generation. We want to see what kind of vintage cookbooks you have in your collection. Submit a photo and share that culinary treasure with us!
We don't know much about this cookbook, but what we do know is that the image is absolutely captivating; the way the ground beef is contrasted against the dreamy background is just striking. We also know that this book was published by Good Housekeeping in 1961 and that it contained a section titled "What every woman should know about hamburgers." Image courtesy of www.midcenturymenu.com

What really drew our eye to this vintage cookbook was the photo. We don't know what asparagus looked like in 1941 when the book was published, but the ones on this cover are notably enormous. Published by the Culinary Arts Institute. Image from Foundtreasuresden

It feels like only in the 60s would a book boldly advertise cooking from the can (when these days everything is more highly valued when it's made from scratch, and beyond). This "new new" cookbook was published by Poppy Cannon in 1968. Image from etsy: HappyHomemakerVtg

If you're not familiar with Whip 'n Chill, don't worry, you're not alone. Whip 'n Chill was a Jell-O product sold in the 60s and 70s that allowed you to make instant mousse. You can still buy it on Amazon, though it'll cost you a pretty penny. A pack of 8 5-Ounce Packages will set you back $74.57. Evidently, it could make magical desserts, at least it did in 1966 when the book was published. Image from Etsy: vintagebooklover

Just in case you didn't catch it, the tagline of this book reads, "The cookbook with all the ingredients for that light-hearted leap from filing cabinet to flambe." Well, that just says it all. In the 60s, most single girls we're secretaries or school teachers -- and apparently, they were also considered with learning how to flambe. Image from Slash Food

For some reason, when this book was published, it was thought that salmon, eggs and pickles would make a great casserole for a hot summer day. Sounds to us more like a disaster. But there's still something sort of sweet about the porcelain doll that overlooks this dish on the back cover of this vintage cookbook. Image courtesy of www.http://www.midcenturymenu.com

We've all heard that the best way to a man's heart is through his stomach, and in this cookbook they might really mean it. Or at least, they feel that's the best way to hold on to him once you got him. In 1968, when the book was published, it was advertised as "an irreverent and affectionate guide to the well-stuffed spouse" and it featured such recipes as Pompous Paella and He-Man Hearty Sandwiches. Image from amazon.com

What is there not to love about a spoon, named Miss Fluffy, with big blue eyes, rosy-red lips and white rice for hair. It's just too bad she didn't survive the test of time like Miss Chiquita did. Miss Fluffy's Rice Cook Book was published by the Rice Council in Houston, Texas in the 1960s. Image from Amazon.com

Published in 1957, this booklet features "97 gay new ideas and recipes... for coffee time through late t.v." Who knew that Bisquick could be handy in so many different situations? Here we were only turning to it for our breakfast meal. Image from amazon.com

Back in the 1940s, refrigerator desserts must have been a thing -- there were at least 250 of them (a good number when talking about desserts). This book was part of a series of short collectible books published by the Culinary Arts Institute. Image from www.oldcookbooks.com.

There's something so captivating about this cover. It might be the pink kitchen counters, the Dutch door that opens out to the backyard, or maybe it's just that Carnation published an entire cookbook. All the recipes feature Carnation products of that time, specifically; homogenized milk, sour cream, buttermilk, cottage cheese and so on. It was published in 1958. Image courtesy of www.midcenturymenu.com.

This cookbook cover reminds you of bygone times (and ideals) -- to a time when the country looked at war in a different light. Published in 1917, it was a book to help women get through WWI. Image from amazon.com

At a time when Barbie was an American ideal, this cookbook taught woman "10 Bright-Eyed Ways To Begin A Breakfast." The book also includes stories and recipes include Barbie's mother, father, Ken, Midge and Skipper. Image from amazon.com.

AmericanIsis:From the Winterthur Museum & Library, gift of Saul Zalesch

AmericanIsis:From the Winterthur Museum & Library, Gift of Saul Zalesch

AmericanIsis:From the Winterthur Museum & Library, Winterthur, DE Gift of Saul Zalesch

comicalcookbooks:This one was a no-brainer to buy once I saw the cover. The cover shows a fancy-schmancy appetizer plate with a hideous purple orb with olives, onions and pineapple jammed onto it with toothpicks. This cookbook was a huge national security blunder. Five years later, the Russians would launch the appetizer-inspired Sputnik into Earth orbit. It would take years before the Americans would catch up in the space race. A sample recipe on page 17, Herring on picks. Nothing more than 1″ square chunks of pickled herring and a small pickled onion on a toothpick. I know it's hard to come up with 500 recipes, but come on.. Ditto on the per capita consumption of herring and some other odd items that I see with alarming regularity in these books. Image courtesy www.comicalcookbooks.com and www.chefsresource.com

comicalcookbooks:First, all of them have slightly maniacal grins, especially Mom. Mom has a vacant, Stepford wife look about her. Then, look closer… How many donuts do they plan on making? There's a HUGE platter of sugared donuts already finished. 6 more on the cooling rack. Another batch currently being fried in Crisco, and who knows how much batter is still in the bowl. There are at least a 24 donuts already made (and most of them are Chernobyl-sized donuts to boot). I guess childhood obesity is timeless. Image courtesy of http://www.comicalcookbooks.com and http://www.chefsresource.com

comicalcookbooks:How can you not buy a book titled "All about sausage"? It's not about the Benjamins, it's all about the sausage. There's far more to this gem than the title, we hit the ground running with the inner cover and intro page: "Without sausage, without bacon, purpose in life is forsaken" – An old German proverb. I can already tell this will be a good book. It's from Oscar Meyer, so they cover every type of prepared meat you can think of for this cookbook. Some favorite recipe titles: Holiday meat tree, Bacon butter, Meat pops, Smoky link pasties, Wiener chow mein, weiner tacos and teeny weiners and little weiner wraps. No joke. Image courtesy of http://www.comicalcookbooks.com and http://www.chefsresource.com

cookbookvillage:Trader Vic's Kitchen Kibizter, a humorous cookbook from Victor Bergeron (Trader Vic) - 1962

cookbookvillage:The I Hate to Cook Book published in 1960 is a humorous cookbook by Peg Bracken. The cover art is one of our favorites.