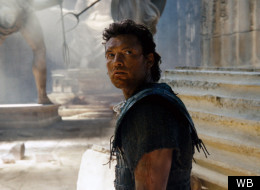 "Wrath of the Titans" arrived in theaters at midnight with significantly less buzz that its predecessor, "Clash of the Titans." The original ("original") "Titans" earned over $2 million from its midnight screenings; "Wrath" pulled down just a smidge over $1 million, meaning the sequel will come well short of the $61 million "Clash of the Titans" earned in April of 2010.
Of course, while the box office results for both films are wildly divergent, the critical response has been just about the same. Both "Clash" and "Wrath" were raked over the coals by film critics. "Clash" had a Rotten Tomatoes rating of just 28 percent, and "Wrath" has so far clocked in at 24 percent.
Ahead, a smattering of the mostly terrible reviews for "Wrath of the Titans" from the nation's top critics.
PHOTOS: "Wrath of the Titans" Reviews
Andy Webster from the New York Times (filling in for top critics Manhola Dargis and A.O. Scott, which should tell you all you need about "Wrath") singled out the film's digital prowess: "What you get in abundance, as before, are its true stars: monsters in digital (and in some theaters 3-D) detail, notably a chimera; three huge Cyclopes; Makhai (minions with two heads and torsos); and Kronos himself, a lumbering Gargantua of living lava, all engaged in furious, fairly bloodless PG-13 conflict." [PHOTO: Warner Bros.]

Kyle Smith's two-star review in the New York Post gets more to the point: "[director Jonathan] Liebesman doesn't bother much with making sense: Whenever someone needs a magical power that could yield some nifty CGI, he gets it, unexplained. An army commanded by Andromeda girds for battle -- then stands around watching Perseus go at it with Kronos. A major character's U-turn occurs after someone simply requests it. 'Wrath of the Titans' suggests a franchise that isn't trying very hard, and I don't really expect a sequel. But if it does happen, I fear it'll be even less of an event: 'Tiff of the Titans.'" [PHOTO: Warner Bros.]

EW critic Owen Gleiberman was a bit more kind to "Wrath of the Titans" in his B-minus review. "For a movie that's basically all warmed-over pseudo-mythology and special effects, 'Wrath of the Titans' is certainly more fun, in its solemnly junky way, than 'John Carter.'" [PHOTO: Warner Bros.]

Not USA Today, sadly: "'Wrath of the Titans' is a hot mess of warring gods and a cyclops or three." [PHOTO: Warner Bros.]

In TIME magazine, Richard Corliss wrote that "Wrath" was "slightly better than OK." Praise! [PHOTO: Warner Bros.]

For Chicago Tribune critic Mark Olsen, "Wrath of the Titans" felt like a "checklist being ticked off." Nothing like homework at the movies. [PHOTO: Warner Bros.]

Roger Ebert: Not a fan. "'Wrath of the Titans' is obviously not concerned with plausibility," he wrote in his two-star review. "It lacks a comprehensible story, and you won't need your Cliff Notes on the Greek myths." [PHOTO: Warner Bros.]

Variety critic Andrew Barker is yet another critic to damn "Wrath of the Titans" with faint praise, writing that it's better than the limp original. [PHOTO: Warner Bros.]

While THR critic Todd McCarthy concedes that "Wrath of the Titans" will make money, he writes that the story is "thin and unimaginative." "Wrath of the Titans" -- with its 24 percent Fresh rating on Rotten Tomatoes -- is in theaters now. [PHOTO: Warner Bros.]