April Fools Ideas: 6 Epic Pranks From Real High Schools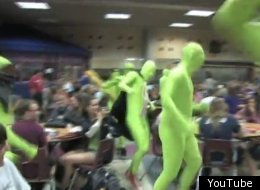 If you're looking to pull off the most epic April Fools Day prank ever, Justin Bieber is not the only person you should go to for inspiration today -- though, admittedly, we were impressed when he foiled Miley's prank on him during last week's Punk'd episode. If the below videos are any indication, high school students are the real masters when it comes to planning giant, elaborate, and hilarious pranks. From one class's lunchtime dance party in neon bodysuits to another's crazy maze made entirely of boxes in the school gym, these guys make your whoopee cushion look like child's play.
Are you plotting any wild pranks today? Tell us in the comments below or tweet @huffpostteen!