Bob Knight Sleeping On ESPN College GameDay? (VIDEO)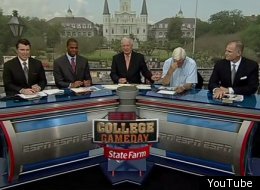 From the players and coaches all the way through the roving media contingent, March Madness can be exhausting for everyone involved. It appeared on Saturday that former coach and current ESPN analyst Bob Knight may succumbed to the mounting exhaustion. Of course, he may have just been upset because he actually said the word "Kentucky" last week. But all signs in this video point to the former coach sleeping on the air.
After a segment on ESPN College GameDay featuring Len Elmore, the cameras cut to a panel including Knight. But the famously hot-tempered coach was looking down with his hand covering his head. Luckily, his good friend Digger Phelps noticed after a few seconds and gave Knight a little nudge.
This really shouldn't come as a surprise. Knight did the same thing last year on Mike Francesa's radio show a day after Selection Sunday.

WATCH VIDEO AT THE TOP