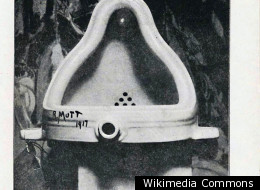 Ever since Marcel Duchamp hung a toilet bowl in a museum gallery, the overlap between artists and pranksters cannot be denied.
Whether done by artists or to make fun of contemporary art, art pranks have been there to pull the rug under those who take themselves too seriously. Sometimes pranks are used as a political weapon, other times they show the stuffy art elite how to let loose, and occasionally they are just about the pure art of the prank.
Happy April Fools' Day everyone! We hope you enjoy these 10 unforgettable art pranks. Let us know your favorites in the comments section below.
In 1917 a clever artist by the name of Marcel Duchamp changed art history forever by turning a urinal upside down, hanging it on the wall and declaring it art. The readymade sculpture, although in its day rejected by the Society of Independent Artists, is one of the most radical and influential artistic contributions of all time. (As well as a pretty funny one.) The game-changing piece, entitled "Fountain," toyed with the relationship between labor and art, concept and technique, and the deification of artists and artistic spaces. Thus conceptual art was born, and the relationship between vandalism and genius established forever.

If you've ever wondered if a piece of garbage on the floor was regular garbage or art masquerading as such, we think you'll appreciate this prank from duo "Doug and Mikael." The playful twosome invade the Tate Modern and pretend to be works of art themselves... by staying very still with a ping pong ball in their mouths. Judging by the crowds' reaction, we think they pull it off.

On April Fools day in 2005, "Popular Photography Magazine" ran a special on how to "save" photographs from their unattractive wrinkles and expressions. The article showed Dorothea Lange's iconic "Migrant Mother" as an example, notoriously recognized for her depression induced weariness. Yet the new and improved mother looked more like a real housewife, her wrinkles Botoxed away and frown assuaged. Although many readers appreciated the joke, others were horrified. One reader responded: "Dorothy Lange, Roy Striker and all the great photographers of the Farm Security Administration would turn in their grave if they saw this tasteless joke."

Hollywood's big charmer George Clooney pulled one over on his best friend Richard Kind when he fooled him into hanging a hideous work of art in his home. Clooney found a huge, ugly work of art that had been left out on the street and started planning from there. He then started working "I can't, I have art class" into conversation with Kind for a year. Then he presented the hilariously awful work and said: "My art teacher's really proud of me but this (painting) is the first one we're both really proud of. You've been so supportive, I want you to have it." As a best friend should, Kind hung the piece over his couch for 2 years.

"The Office" writer and actor BJ Novak confessed to an art prank of his own. In 1997, when the funny man was still in high school, he made an alternate self-guided tour to an exhibition at the Museum of Fine Arts. He replaced the tour's planned cassette with his own. The first three minutes were the same, then things started to get weird. Directions turned to: "Quietly remove the glass and inhale the rich aroma of the paint. Ah, that is good stuff!" The tape eventually asked museum goers to do the hokey-pokey. According to Novak, his mother was not pleased. via Boston.com

In the early 1970's artist Harvey Stromberg decided it was about time his work was shown in the MOMA. He created 'photo-sculptures' that were exact copies of the unnoticed details of museum equipment. He made sticker replicas of light switches, air vents, locks and more, some of which stayed up for 2 years. Stromberg said of his prank/exhibition: "When I install a piece, my adrenalin is racing. In fact, its very hard for me to come up with serious reasons why I do it." He eventually had an official opening party for his successful exhibition at which he toasted his fans with fake champagne glasses.

Russian art renegade collective Voina have engaged in many a political prank, from holding orgies in museums to setting a police car on fire. Surely one of their greatest (and most mature) moments was when they painted a 210 foot penis on the Liteiny Bridge, forever dubbed "Giant Galactic Space Dick." When the bridge stood upright at 2 am, so did the... artwork.

In an elaborate prank designed to fool the art and literary elite, William Boyd fabricated an entirely fake artist, Nat Tate. Boyd wrote an entire autobiography for the imaginary person with help from David Bowie and Gore Vidal. Nat Tate, whose name is a combo of The National Gallery and the Tate Gallery, was described in his autobiography as "an essentially dignified drunk with nothing to say." Bowie held a launch party for the book on April Fool's Day in 1998, at which most A-list critics and artists who attended claimed to know of Tate, although they weren't particularly close. The whole joke took a strange and costly turn when one of "Tate's" pieces sold for $11,000. Who's laughing now? Seriously though...

One of the best art prank tricks in the book is hanging up your own painting in a museum. We are particularly fond of this video from a 20 year old artist named Cartrain. Cartrain first came into the spotlight when he, as a 16 year old, was started a copyright feud/ prank war with Damien Hirst. He also smoked a joint with artist Vanguard in the House of Commons. But we really enjoy this video of Cartrain sneaking a piece of trash into the Tate Modern, and, apparently, enthralling many of the museum goers.

After George Bush's paintings captivated the internet in its entirety, including Jerry Saltz, evidence emerged that super-gallery Gagosian Gallery would be exhibiting Dubya's puppy-centric works. Unfortunately Larry G. and George W. never collaborated on an artistic experience, the flyer was circulated by artist Damien Crisp, who invents stories as a form of artistic expression. If you're wondering how the opening went this weekend, a faux Facebook event has hilariously photoshopped photos from the event.

Nothing says LOL like stealing a gallery owner's car. For an exhibition, artist Rirkrit Tiravanija removed the walls and windows from Gavin Brown's art gallery to collapse the space between interior and exterior. The show had a "do as you please vibe with a signature absence of authority. But two other artists, Patricia Silva and Eric Clinton Anderson, decided to take these vibes to the next level when they saw into Gavin Brown's Volvo parked in front of the gallery with the keys in the ignition. They got in and drove away. Silva tweeted throughout the joyride... yes, they gave the car back. She even showed a pic of Brown's parking tickets in his glove compartment. via New York Magazine Vulture

Surrend, a Danish art group, put a fake tourism advertisement in "The Myanmar Times" from the agency 'Ewhsnahtrellik'. Look closely and you will see the strange agency title reads 'killer Than Shwe' backwards. Surrend had just tricked the Time into publishing that their regime's military ruler, Than Shwe, was a killer. "'With art you can fly under the censorship radar," the group said.

When eternal music icon Bob Dylan released the works for his second art exhibition at Gagosian, the resounding reaction was-- wait, what? The re-contextualized magazine covers packed with pop culture signifiers were so unimpressive they led many to hypothesize the whole show was a prank plotted by Dylan with friend and re-appropriation prankster Richard Prince. Whether Bob Zimmerman was duping fans and journalists alike or just making some pretty bad art we'll never know for sure, but we certainly prefer this theory.

The master artist-prankster of today is, of course, Banksy. From placing a mannequin of a Guantanamo Bay detainee in Disneyland to putting his own art in museums, Banksy has mixed humor, politics, art and breaking the law like no other. Here is a video of Banksy pranking Paris Hilton. When Hilton released her pop album in 2006, Banksy remixed it with Danger Mouse, changing the songs to say "Why am I famous?" and "What am I for?" He changed the image so Paris' head was replaced with her dog's. He put 500 of the fake CD's in record stores around the UK. Not only is it pretty funny but the songs are catchy as well.