15 Times Swiss Chard Was Just As Good As Kale (If Not Better)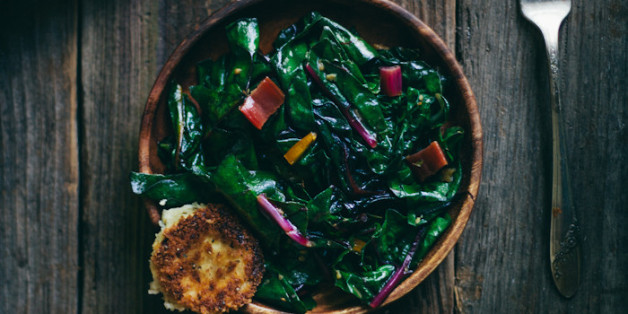 Adventures in Cooking
Swiss chard often gets overlooked for the more common leafy green, spinach. And it's been getting the shaft even more as a result of kale's growing popularity. While spinach and kale are both valuable greens, and they have an important place in our meals, so too is chard; and it deserves more recognition from you guys.
This leafy green is just all around good for you. According to the World's Healthiest Foods website, chard "is truly one of the vegetable valedictorians with its exceptionally impressive list of health-promoting nutrients." Not only is it full of nutrition, but sometimes it bears colorful stalks that make it very beautiful, too -- and they add nice bright pinks, reds and yellows to your dish.
1

Black Bean And Sweet Potato Tacos With Swiss Chard Pesto

Bev Cooks

2

Sautéed Swiss Chard With Ricotta & Marjoram Medallions

Adventures in Cooking

3

Garlicky Swiss Chard And Chickpeas

Foodie Crush

4

Indian Roasted Potato Salad with Swiss Chard

Bev Cooks

5

Sautéed Swiss Chard With Shiitake Mushrooms

Simply Recipes

Alexandra Cooks

7

Swiss Chard And Zucchini Enchiladas

Karen Bianchi/Food52

8

Shiitake-And-Swiss-Chard Soup With Hand-Cut Noodles

Con Poulos/Food&Wine

9

Bread Soup With Onions, Chard And Mushrooms

Simply Recipes

10

Broccoli, Chard, & Bean Soup

Adventures in Cooking

11

Braised Chard With Black Olives

New Media Publishing

12

Honey-Soy-Glazed Vegetables With Crispy Mushrooms

Con Poulos/Food&Wine

13

Quick White Bean Stew With Swiss Chard And Tomatoes

Quentin Bacon

Macheesmo

15

Swiss Chard + Walnut Stuffed Tomatoes

Caroline Wright/Food52
Want to read more from HuffPost Taste? Follow us on Twitter, Facebook, Pinterest and Tumblr.
MORE:
Huffpost Canada Recipes
,
Swiss Chard
,
Chard Recipes
,
Swiss Chard Recipes
,
Chard Recipe
,
Recipes For Swiss Chard
,
Rainbow Chard
,
Recipes Swiss Chard
,
Recipes With Swiss Chard
,
Braised Chard Recipe
,
Swiss Chard Recipe
,
Healthy Chard Recipes
,
Recipe Swiss Chard
,
Rainbow Chard Recipe
,
Recipe For Swiss Chard