Colorado Wildfire: Crews Near Full Containment, All Remaining Evacuees Can Return Home (PHOTOS, VIDEO)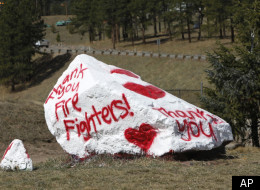 CONIFER, Colo. — Colorado authorities are allowing all remaining evacuees from the Lower North Fork wildfire to return home on Monday.
Jacki Kelley of the Jefferson County Sheriff's Office said that residents of 50 homes can return Monday morning, nearly a week after the fire erupted.
She says firefighters have contained 97 percent of the fire's perimeter. That, and a cold front that could deliver snow overnight, should allow all remaining evacuees to return to their homes.