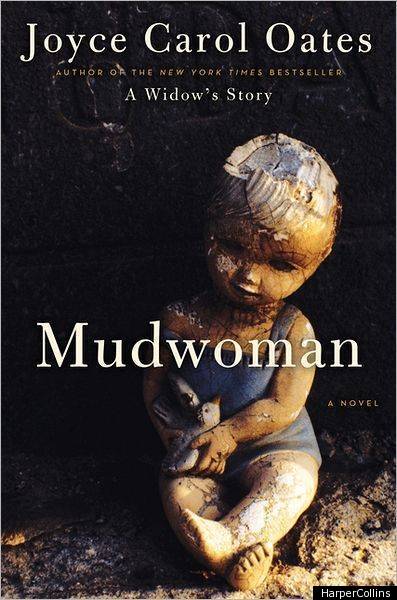 Meredith Ruth (M.R.) Neukirchen is the first female president of an ivy league university, clearly modeled after the author's own place of work, Princeton. She is driving to upstate New York to deliver a speech about the Iraq war, which she is opposed to in spite of the politics of her school's opinionated donors. Understandably, she's stressed. Not-so-understandably, this leads her to abandon the presentation to visit the mud flats that overrun the town where she grew up.
Soon, the trauma of her childhood is revealed to us: Her wayward mother attempted to drown her in those very flats; her mother's husband sexually abused her; she was taken in mistakenly by another fanatically religious couple. M.R. (aka Mudwoman) begins to lose herself in these memories, and her psyche begins to deteriorate, as she and the reader lose sight of what's real and what's not.
Why are we talking about it?
Joyce Carol Oates is incredibly prolific, yet falls just short of major recognition time and time again. She's known for penning eerie, Gothic works, but typically roots these stories in historical events such as the Chappaquiddick incident. But this novel--the first work of fiction since her husband's death in 2008--is uniquely personal.
Oates says in an interview with The Washington Post: "I almost never write inspired by a dream vision. But in this dream, I saw a woman sitting at a large table wearing inappropriate, very heavy makeup that had dried, like mud, and was darker than her skin. I was so haunted by the image, and when I woke up I immediately started writing notes. It was presented to me as a great mystery that I had to decode and put in a context."
We found this to be an intriguing departure from token Oates tales.
Joyce Carol Oates, author of over 50 novels, including the 1969 National Book Award winner, "them."
Fans of Oates, especially those who enjoyed her memoir, "A Widow's Story"; fans of psychological thrillers
What's it similar to?
James Joyce's "Ulysses" for its raw narration blended with bouts of surrealism; Charlotte Bronte's "Jane Eyre" for its gothic nature and strong female protagonist with a troubled childhood
The New York Times: "M.R.'s preoccupation with the Iraq war doesn't shed interesting light on either the war or her own psychology. More successfully, Oates makes aspects of M.R.'s scholarly work an outgrowth of her childhood trauma, having her pose philosophical questions like "Why am I here, and not rather — nowhere?"
The Boston Globe: "How bad is the writing? So bad that it works better as parody… Legions of people, apparently, wish to harm [the protagonist]… most likely products of her crumbling psyche - but maybe not: the driver of the big blue truck trying to run her off the road; the strangers who kidnap, strip, violate, and abandon her."
M.R. struggles with her role as a female university president, and it's no wonder why -- only 23% of university heads are female. That's pretty shabby when compared with the 75:25 female:male ratio of secondary school teachers.
"You must be readied, the woman said."
"For the Black River Road had collapsed into the riverbed like a toothless mouth and desperately/recklessly she'd turned onto the narrow unpaved detour-road though knowing -- with a part of her mind absolutely knowing -- that if she didn't turn back immediately she would be late for the event that evening in Ithaca…"
SUBSCRIBE TO & FOLLOW CULTURE SHIFT
Every Friday, HuffPost's Culture Shift newsletter helps you figure out which books you should read, art you should check out, movies you should watch and music should listen to. Learn more