Last month, we were offered a window into the behind-the-scene workings of the flash sales site One Kings Lane with the launch of its editorial site Live.Love.Home. They've certainly been making a lot of changes it seems, and now, the sales site brings you the new permanent online shop Vintage & Market Finds, which features an expertly curated collection of antiques and classic furnishings.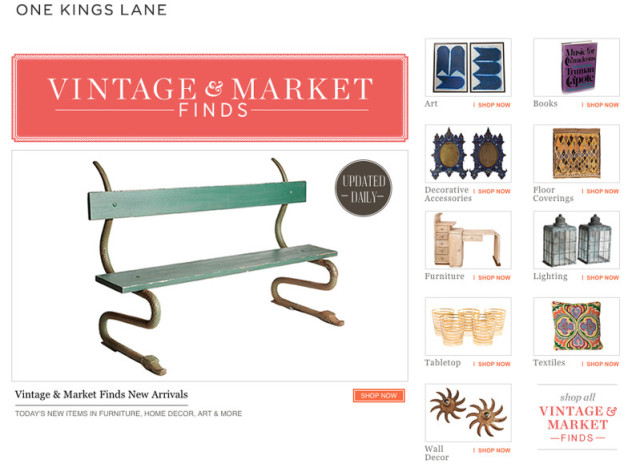 Photo courtesy of One Kings Lane
Although the new Vintage & Market shop is members-only, once signed on, you'll have access to a wide selection of unique art, furniture and lighting pieces that are up to 70 percent off retail value. But, like all other places, some digging is necessary to find the best deals -- price tags range from $39 for a Vintage Carved Wood Guitar Sculpture to jaw-dropping $10,999 for an Antique Agra Rug. "Before Vintage & Market Finds, there wasn't a permanent online marketplace where shoppers could find an ever changing supply of curated, premium antique and vintage treasures, delivering tremendous value," explains Andrea Stanford, the company's vice president of designer and vintage sales.
And, in curating its selections, Standford tells us that they worked with vintage dealers from across the world "to ensure we are offering a wide variety of items that we know our members will love."
We're huge fans of vintage home finds, so we're excited there's another online shop to turn to for antiques...even if that 19th-century Louis Philippe French mirror is somewhat out of our price range. And, just remember it's first come, first serve, so if there's something you're eyeing, act quickly. To check out their latest treasures, visit One Kings Lane's "Vintage & Market Finds".
Have something to say? Be sure to check out Stylelist Home on Twitter, Facebook and Pinterest.