Although it's still freakishly cold, we're craving some spring colors for our bedraggled nails. So we were psyched when we read about Prabal Gurung's new collab with Sally Hansen.
The designer's Spring 2012 collection was full of psychedelic purple and turquoise graphic prints on fresh white backgrounds and Sally Hansen has expertly transferred the designs onto pre-polished, press-on adhesive strips. The two styles, Sweet Marble Floret and Good Morning Glory, are Prabal prints writ small -- and cheap. Each package is just $9.99.
Which begs the question: why aren't all our favorite fashion prints on nail decals? Below, check out Prabal and Sally Hansen's new collab as well as the prints we'd love to see on our nails!
PHOTOS: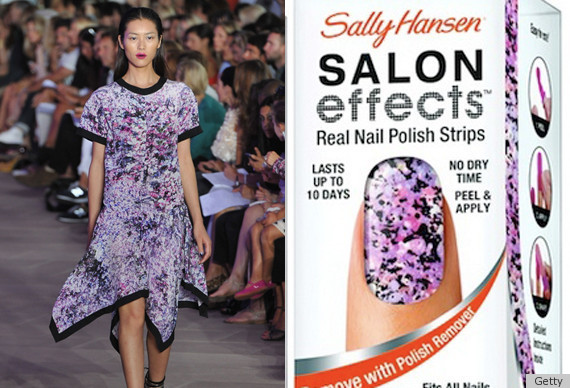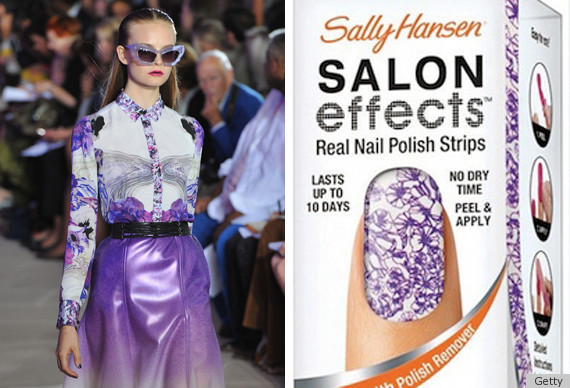 These Native American-inspired prints are still some of our favorites ever. (Getty photos)

We also are still obsessing over these electric neons many seasons later -- how good would these look on nails? (Getty photos)

No one could mistake the graphic banana print and those giant stripes -- these would make the BEST spring nails ever. (Getty photo)

The quickest way to make a statement? Slap some cats and naked ladies on your nails. (AFP photos)

No one made scarier, more haunting birds like McQueen. (AFP photos)

Want retro '70s nails? Marc Jacobs created the perfect print for Louis Vuitton. (Getty photos)

Even carboholics like us were won over by Stella's juicy prints. We'd love us some fruity nails. (WireImage photos)

These stripes would give your nails a peppy lift for spring. (Getty photos)

Forget the "LV" monogram -- we're loving this lighter floral print instead. (Getty photos)

The easiest way to get your Missoni for Target fix late in the game? Striped nail art.