Bull testicles, or Rocky Mountain oysters as they are sometimes called, are probably not the first (or last) ingredient that comes to anyone's mind when designing a new craft beer. But Wynkoop Brewing Company put together one of the best April Fool's Day pranks over the weekend with their faux-introduction of their "new" brew: Rocky Mountain Oyster Stout--a beer made from bull testicles--and the video promoting the pretend beer is hilarious.
Wynkoop Brewing Company has created a brand new style of beer, and we're releasing it on April 1. This pioneering beer is so unique that we created a video to document its story.
"Fried bull testicles, or Rocky Mountain oysters, are a Colorado favorite," brewmaster Andy Brown says while lightly jiggling a real bull testicle. "This makes them the perfect ingredient to showcase a new style of beer we created which really pays tribute to one of Colorado's culinary jewels."
Filled with images of actual bull testicles being analyzed and handled by the Wynkoop master brewers, added into kettles and lots of dry tongue-in-cheek humor, Wynkoop's Rocky Mountain Oyster Stout sure looks like the real thing -- the brewing company even made a logo for the testicle brew (image below).
"When making this style of beer it's important to use the freshest ingredients possible, and these testicles, they're very fresh," brewmaster Brown says in the video.
What does the bull testicle beer taste like? Another Wynkoop staffer says, "The results of our efforts is a luscious, creamy stout that delivers loads of flavor -- everything from roasted barely and coffee, to chocolate and nuts."
Watch the Rocky Mountain Oyster Stout promotional video above.
LOOK: Wynkoop's April Fool's Day brew logo: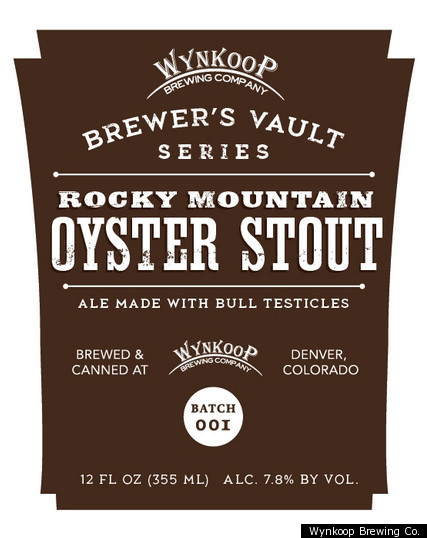 SUBSCRIBE TO & FOLLOW THE MORNING EMAIL
The Morning Email helps you start your workday with everything you need to know: breaking news, entertainment and a dash of fun. Learn more