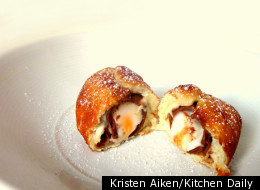 We see a lot of eggs come Easter time, but the egg that reigns supreme during this spring-time holiday is without question the Cadbury Creme Egg. Milk chocolate on the outside with a silky and creamy filling -- it tastes of perfection. The only problem with this sugar-laden chocolate egg is that they're only available this one time of year. (Where do these delightful treats go during summer, fall and winter?)
To make up for these gaps in Cadbury Creme Egg indulgence, it's important to get your fill of them when they are around -- which is right now. And the best way to do that, besides eating one right after another, is to incorporate them into your dishes and recipes. That's what we did at HuffPost Taste and the results were delicious. We made treats such as doughnuts stuffed with Cadbury Creme Eggs, s'mores with the egg in place of plain chocolate, and chocolate and creme egg-swirled milk shakes. Click through the slideshow below for the recipes and more inspiration.
Cadbury Eggs + Doughnuts = The ultimate in indulgence. These little mouthfuls of bliss are easier to make than you might think. Frozen Cadbury Eggs are rolled in a thin layer of pizza dough (use homemade, store-bought, or a ball from your local pizzeria), making sure to seal the edges well. Fry each doughnut in a few inches of hot oil for a minute or two, until they're golden brown. Dry them and blot their oil on a paper towel for a couple of minutes, and then dust with powdered sugar for the finishing touch. The key to perfection? Make sure your Cadbury Eggs have been frozen for at least 4 hours beforehand. That way, they won't turn to liquid in the fryer -- instead you'll be left with a soft, gooey center whose chocolate melts into the warm, puffy dough. Heaven.

It makes perfect sense. People love their s'mores and they love their Cadbury eggs. Why wouldn't you put the two together? The creamy filling adds an extra hit of sugar that you just can't refuse. You'll need graham crackers, marshmallows and Cadbury Creme Eggs (quantity dependent on how much sugar you can handle). To make them, assemble just as you would a classic s'more, but in place of chocolate use half a Cadbury egg.

For this Cadbury Egg milk shake (it serves 2), you'll need 1 pint of chocolate ice cream, 1 cup of milk and 4 Cadbury Eggs. Blend the ice cream, milk and the filling only (not the chocolate shell) of 3 Cadbury Eggs until creamy and frothy. Stir in the reserved 3 Cadbury Egg chocolate shells, chopped very finely. Divide the milk shake between two tall glasses. Top each with a 1/2 Cadbury egg and serve.

When you feel like something sweet in the mornings, swap your eggs for Cadbury creme eggs. It's a cross between a chocolate panini and an egg sandwich -- and it's just delicious. You'll need a slice of country bread (cut in half), one Cadbury Creme Egg (refrigerated and cut in half) and butter. Assemble the sandwich as you would a grilled cheese and grill it on a grill pan until the bread is well browned and crisp and the egg interior is completely melter. To make this egg sandwich extra special, be sure to butter both sides of the bread.

You've probably never used the word "elegant" to describe a Cadbury Egg, but this dessert takes it there. After blind-baking your favorite pie dough and allowing it to cool, blend the following ingredients with a mixer: 8 ounces cream cheese, 1/2 cup sour cream, 1/4 cup sugar, and 1 teaspoon orange zest (optional). Spoon the creamy filling into the pie shell, top with 4 halved Cadbury Eggs (a total of 8 halves), and allow the whole tart to chill in the refrigerator for at least 2 hours. Cut the tart into 8 slices when you're ready to serve.

Reminiscent of the classic meatloaf dish with a hard-boiled egg in the middle, this pound cake loaf holds three Cadbury eggs. The cake is rich, moist and highly addictive, and the eggs add a pleasant surprise. We highly recommend lining the loaf pan with ment paper, because the eggs have a tendency to fall to the bottom of the pan, caramelize and stick -- ruining the cake. Using the recipe for Easy-Does-It Pound Cake, you'll need two 8-1/2 x 4-1/2 loaf pans, six Cadbury Creme Eggs and parchment paper. Line the loaf pans with parchment paper. Fill the loaf pans evenly with almost all of the cake batter. Add three creme eggs to each loaf pan. Top off with the rest of the batter. Cook the cake according to Easy-Does-It Pound Cake recipe instructions. Despite how good it smells when it comes out of the oven, give it ample time to cool -- it's worth the wait.