Forney, Texas Tornadoes: Schools Reportedly Hit By Storms (VIDEO, TWEETS)
Reports have surfaced that multiple public schools in Forney, Texas, may have been hit by the tornados that tore through areas south of Dallas and Forth Worth on Tuesday.
According to CBS News, students in the Forney Independent School district, which has around 7,000 students enrolled in 13 schools, were in class when the storms touched down this morning. A video posted to YouTube shows multiple storms tearing through the area.
SEE VIDEO ABOVE
Consecutive posts on Twitter reported that a high school and elementary school in the area had been hit in the storm:
Sounds like tornado hit Crosby Elem in Forney, significant damage to homes. #txwx

— DFW Police Scanner (@DFWscanner) April 3, 2012
Crosby Elementary School in Forney has also been hit too. The High School was hit just minutes ago.

— WFAA TV (@wfaachannel8) April 3, 2012
Moments later, NBC News reporter Ray Villeda said via Twitter that he could see visible signs of destruction as he approached the elementary school. Later, he followed up with reports that the roof had been damaged, a car flipped over in the schoolyard, and that a temporary shelter had been set up at another school, Criswell Elementary:
Approaching Crosby Elementary in #Forney. Trash debris scattered all over yards. Lightning still in area.

— Ray Villeda (@RayVilleda) April 3, 2012
Crosby elementary sustained some roof damage. Home around it sustained more damage. #forney

— Ray Villeda (@RayVilleda) April 3, 2012
Two dozen homes, City of Forney estimates, sustained damage. @NBCDFW

— Ray Villeda (@RayVilleda) April 3, 2012
Shelter set up at Criswell Elementary in Forney. @NBCDFW

— Ray Villeda (@RayVilleda) April 3, 2012
Meanwhile, the Dallas-Forth Worth Police scanner posted a photo to Facebook of a baseball-sized piece of hail that had fallen from the sky: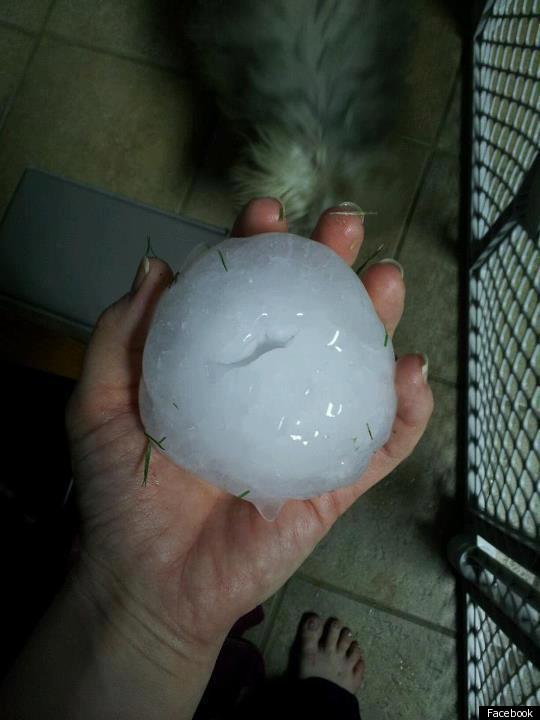 Check out the Live Blog below for more updates on the storms:
04/03/2012 7:48 PM EDT
150 Homes Possibly Damaged In Arlington
@ CBSDFW :

Arlington's assistant fire chief says 150 homes in three different areas of the city suffered some sort of damage today. #DFWwx
MORE:
Natural Disasters
,
Green News
,
Texas Tornado
,
Texas Weather
,
Texas Tornadoes
,
Dallas Tornado
,
Cleburne Texas
,
Dallas Weather
,
Tornado Texas
,
Dallas Texas Tornado
,
Green News Natural Disasters
,
Hutchins Texas
,
Dallas Texas Weather
,
Cleburne Tornado
,
Green News Natural Disasters
,
Hutchins Texas Tornado
,
Forney Tornado