A grocery bag is all it takes to make this beautifully woven paper basket, which is just the right size for kids to tote around during a backyard Easter egg hunt. Or, fill it with candy for an extra special treat. Either way, it's exactly what you'll need come Easter morning (which, in case you forgot, is this Sunday). So, make sure you have one for everyone! Keep reading for the how-to.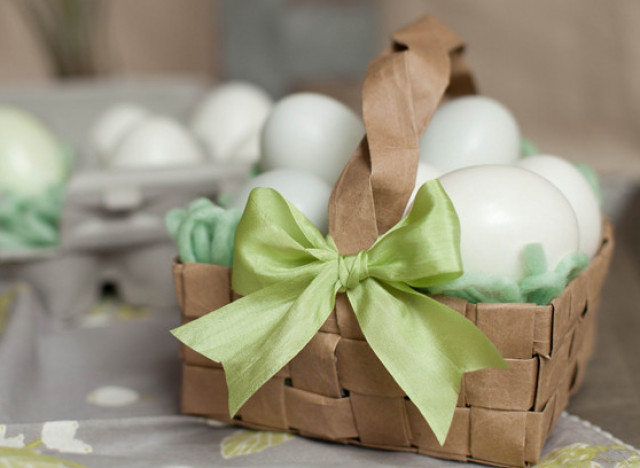 Photo by Lia Griffith of Elinée
To do this project, you will need a paper bag, a glue gun, some clothes pins and a bright piece of ribbon. Start by drawing 20 strips across the width of your bag that are 1.75 inches wide and cut them out. Then, fold each strip into thirds. For the body of the basket, weave 12 strips together into a square shape, with six strips running in either direction. Glue the strips in each corner to keep them secure and fold up the ends to form a box. Next, cut two extra strips in half and glue the pieces to three normal size strips to make them longer. You will use these to weave around the sides of your basket later.
Twist two more strips together to make your handle, securing it on both ends with clothes pins to make sure it doesn't come unraveled while you work. Trim down two center strips on opposite sides of you basket's body and glue your handle into place. Then, weave the longer strips you made around the sides of the basket, gluing them at the ends. Tuck in any ends poking out along the top, tie a pretty ribbon around the handle, and you have a basket all ready for Easter.
For the full tutorial, visit Elinée.