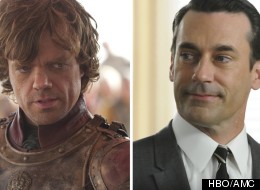 Fantasy fans and '60s lovers have both had a lot to celebrate on the small screen in recent weeks: "Mad Men" returned to AMC with its long-awaited fifth season and HBO welcomed viewers back to Westeros for the Season 2 premiere of "Game of Thrones."
In the battle of critically-acclaimed Sunday night cable dramas, which is king? Luckily, they air an hour apart -- "Game of Thrones" starts at 9 p.m. ET and "Mad Men" follows at 10 p.m. ET -- so you don't even have to put your DVR to use if you're up for two hours of quality TV. Nevertheless, The Huffington Post's Alex Moaba and Elizabeth Perle argue each side of this Great Debate below!
Step


1
Pre-debate poll:
Tell us your opinion before the debate starts to set the starting line
In the battle of the Sunday cable dramas, "Game of Thrones" is better than "Mad Men."
Agree - Thanks for voting! Please proceed to read the debate below
Please vote to proceed to the debate
Step


2
Who makes the better argument?
There are dragons in "Game of Thrones."
For anyone who asks me why I think it's the best show on TV right now, that will always be my first answer. Dragons. Done. It wins.
Fantasy lovers, like me, have been waiting for mainstream networks to bestow a show like "Game of Thrones" upon us for a long time. There was "Xena," of course; the BBC's current family-friendly series, "Merlin"; and some popular miniseries like "Wizard of Earthsea," among many others, but there has been no serial drama that inhabits this world that we are used to seeing in other formats. Not to mention, "Game of Thrones" has actual high production values and the gravitas of a historically accurate period drama.
But "Game of Thrones" (both George R.R. Martin's novels and now in its HBO adaptation) also does some things that we don't expect from our fantasy narratives, and that is why the series will survive past Season 2 -- even if many of your favorite characters will not.
The series actually shows us the perspective of its female characters. They are not just the objects of the male protagonists, which is uncommon in mainstream fantasy stories onscreen and in-book. (I Iove you, "Lord of the Rings," but it's true.) As a viewer, you are invited to identify with these women, from the despicable to the most innocent, because they all have some redeeming qualities we can relate to, whether it's ambition, fear or defiance.
Not all of these women fight for the throne (though some do and some succeed), but all of them are active participants in the fight for political and personal power. As Lauren Davis from io9.com puts it, "Martin doesn't forget that women have their own way of fighting these battles of politics and power that is not necessarily more or less valid." And rumor has it Season 2 will adding a particular, prominent, non-stereotypical female character to the growing roster for fans to look forward to, as well. In the book, "A Clash of Kings," she's a female knight and how she's treated by others is an important example of how strong women are actually viewed: not as desirable (think Lara Croft or Katniss), but as repulsive.
When it comes to other fantasy stereotypes, "GoT" loves to set up tired genre cliches in its narratives and then tear them down abruptly. Season 2's opener was no different (click here to read a recap), and no matter how hard you convince yourself the episode is leading you down the path you want it to, at the end of the day, you are forced to face the cruel facts: The honorable man probably won't win, the main character probably will die, the myserious bastard son probably won't find out who he really is, and nothing -- nothing! -- will probably turn out for the best. It's utter torture, and you'll repeat the phrase, "Damn you, George R.R." to yourself a hundred times per episode while clutching your stuffed Direwolf. But that's also what makes the series so engaging: You have deep, conflicting feelings about all the characters, and you have no idea what is going to happen to them. Ever.
"GoT" may also give us zombies and award-winning actors like Sean Bean and Peter Dinklage, but the number one reason it resonates so strongly beyond the borders of its genre is that it provides a hard, nuanced look into the dynamics of power underlying politics, gender, culture, sex, violence and society. In fact, dragons aside, I think you'll find that the American dream is much closer to the fantasy George R.R. Martin has created than the fashionable nostalgia of "Mad Men."
"Mad Men" and "Game of Thrones" are both Emmy-winning Sunday night dramas; they both majestically portray a bygone era, conveniently glossing over the hardships of the less fortunate citizens of the time; they both feature an impetuous, immature young prince desperately trying to ascend to power (Joffrey Baratheon, meet Pete Campbell); they both elevated long-time character actors up to leading man status (here's to Jon Hamm and Peter Dinklage); and they are both impeccably acted and directed with impressive attention to detail. And while I watch them both, I find the experience of sitting down for an hour of "Mad Men" to be consistently more enjoyable.
"Mad Men" is a self-contained, focused human drama that analyzes the complicated lives of a relatively small circle of characters, not dozens of armies dueling over seven kingdoms. "Game of Thrones" is ambitious in its scale, and with its gigantic web of characters and clans -- Lannisters, Starks, Baratheons, Night Watchmen, dragon-people -- I feel like I need a weekly infographic to follow along. With "Mad Men," it's pretty much just about four names: Sterling Cooper Draper Pryce. There's something comforting about that familiarity. It's like "Cheers," except in an advertising agency. What I'm trying to say is that I like knowing everyone's name.
"Mad Men" takes place in New York in the early '60s, a time when America was in the midst of some seismic changes: the Civil Rights movement, the sexual revolution, the birth of the American counter-culture and the explosion of mass media. And while it's taken some justifiable criticism for focusing on characters who remain intent on staying blissfully unaware of many of those changes, it does portray the era faithfully. (And, to give "Mad Men" some credit for progress, SCDP has hired its first Jewish and African-American employees this season!)
"Game of Thrones" takes place ... at some unspecified time in the medieval era in a fantasy world called Westeros. Can't we all agree that the 1960s were a cooler time than the Dark Ages? I would rather drink scotch from a lowball glass or "smoke some tea" on Don Draper's balcony than risk drinking possibly-poisoned wine poured from a horn. But that's just me.
Another personal preference: I don't need my favorite TV shows to be based on a multi-volume, several-thousand page foundational text. Some of the best shows in recent memory, like "The Wire," "The Sopranos" and "Mad Men" all feel very much like novels in the way they tell layered stories and develop characters over time. But I didn't have to read several actual novels to fully appreciate them. "Game of Thrones'" origins as a series of novels means you can always be out-geeked by some George R.R. Martin superfan who will insist on explaining to you why last night's episode was not nearly as good as his favorite chapter of "A Song Of Ice And Fire."
Admittedly, "Game of Thrones" does hold a decided advantage over "Mad Men" when it comes to live-action TV violence. "GoT" is like "The Hunger Games" meets Tolkien meets a night out at Medieval Times: The show does beheadings, stabbings, spearings and various other gory deaths brilliantly. Ned Stark's execution was, for me, the most memorable major character TV death since Stringer Bell on "The Wire." By comparison, the most prominent death on "Mad Men" last season was when Don's ancient secretary Ms. Blankenship quietly expired while sitting at her desk. Point, "Thrones."
Another area "Game of Thrones" gets a lot of credit for is its sex scenes, but more often than not, they tend to just weird me out. Either brother and sister Lannister are doing it, or Drogo is manhandling Daenerys Targaryen on their honeymoon, or Dothraki warriors are raping and pillaging. It might as well be called Game of Unsettling HBO Sex.
"Mad Men" sex scenes, on the other hand, do more with less. Exhibit A: Don and Megan's rough make-up cleaning sex session in the Season 5 premiere. Exhibit B: Joan and Roger's rainy alleyway hookup last season. And just imagine how extra awesome those scenes could have been if AMC allowed brief nudity!
Finally, there's something about the Sunday evening timeslot that I find more conducive to watching "Mad Men" than "Game of Thrones." On Sunday night, with the work week bearing down in a few short hours, I can't afford to let my imagination wander to a distant, mystical realm. To its credit, "Game of Thrones" can, at times, feel so vivid that I fear I may literally be sucked into my TV and transported to Westeros. I might not show up to work on Monday. If I'm going to start my week off right, I find it much more helpful to channel Don Draper's business swagger, steely determination and barely concealed depression.
Step
3
POST DEBATE POLL
Did one of the arguments change your mind?
In the battle of the Sunday cable dramas, "Game of Thrones" is better than "Mad Men."
VIEW DEBATE ROUND 1 RESULTS
Agree - Thanks for voting again! Here are the results:
moreless AgreeDisagreeUndecided
Elizabeth PerleAlex MoabaNeither argumenthas changed the most minds