NFL New Uniforms: Giants, Jets and Bills Get New Nike Threads (PHOTOS)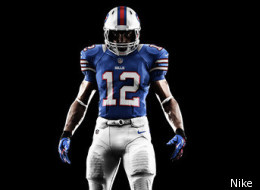 Nike, who is replacing Reebok as the official outfitter of all 32 NFL football teams this season, released some epic images of the new uniforms Tuesday. Although not strikingly different from the previous designs, the "newer lightweight fabrics and a sleek silhouette" will certainly propel a different New York team to victory this year, yes? After all, we have God on our side now too.
Check out the Giants', Jets', and yes, Bills' new threads below (including all new logo gloves, which we imagine would make for great jazz hands-ing). And for fun updates on the grand unveiling check out Paul Lukas' Twitter (the Uni-Watch dude) here.