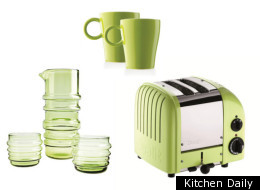 If you're thinking about redoing your kitchen or just want to freshen it up, take a cue from nature. Pale green (in a pistachio hue, especially) is a popular color right now in kitchen design: green tile back splashes, green cabinetry, green wall paint, etc.
But you don't have to tear out your kitchen to give it a new look. A few accessories and appliances are all that you need to add that extra kick. Of course we couldn't leave out a KitchenAid stand mixer from our list, so we've got a beautiful pistachio-colored one. And you don't have to buy brand new things to bring some green style to your kitchen -- take a look at vintage jadeite, which will add charm. Click through the slideshow to see all of our selections and get inspiration to "green" your kitchen.
What's your favorite color for the kitchen? Let us know below.
If you're looking for something truly unique and modern, you've found it in this pitcher and drinking glasses by Marimekko. The beautiful green color and ribbed design set it apart from anything you'd find elsewhere. Marimekko Sukat Makkaralla Green Pitcher and Glasses at CrateandBarrel.com, $39 - $89

A stand mixer is the workhorse of any baker's kitchen. The 5-qt Artisan model from KitchenAid is professional and durable. It's available in a rainbow of colors, including pistachio green. KitchenAid Artisan Stand Mixer at Williams-Sonoma.com, $299.95

These rectangular glazed earthenware casserole dishes are perfect for entertaining -- they go from oven to table. The square 9-by-9-inch and rectangular 7-by-11-inch versions are available in pale green to match your decor. Tonal Ripple Oven-to-Table Cookware at WestElm.com, $24 - $29

This commercial toaster looks both retro and futuristic at the same time. It features all the settings you need for defrosting bread, toasting bagels and more. There's even a setting so you can toast only one side or both sides. Dualit NewGen 2-Slice Toaster at SurlaTable.com, $239.95

Drink your coffee or tea in one of these green mugs. Their modern shape is appealing as well as comfortable to hold. The mugs are made of durable ceramic with a glossy glaze and are microwave and dishwasher safe. Tea Forte Lucca 2pc Ceramic Mugs at Amazon.com, $15

Once you use a hand blender, you'll realize what you've been missing all along. It's so much more convenient than using a blender, especially when you need to puree soup. This Cuisinart model is very powerful with a 200-watt motor. Cuisinart SmartStick 200-Watt Immersion Hand Blender at Amazon.com, $34.95

Sometimes the best places to look for kitchen accessories are tag sales, flea markets and online sites like etsy.com and ebay.com. Look for vintage jadeite, which is made from glass and ranges in color, from very pale green to minty green. Look for kitchen canisters, mixing bowl, cakes stands and more. Jadeite Salt and Pepper Shakers at etsy.com, $38

Serve any hot (or cold) beverage in this 1-liter vacuum jug, which has a thermal interior that holds temperature perfectly. It features a magnetized stopper which opens the spout when you tip the jug to pour. Stelton 1-Liter Vacuum Jug at Amazon.com, $69.95

Designer Sabrina Soto shares ideas for updating a kitchen on a $50 budget.