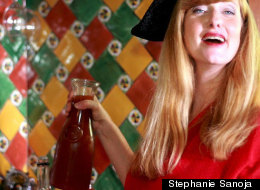 One of the reasons I started my website, MarloThomas.com, was to have a place where women could come together and dream. Women should know that they don't have to hold on to an old dream that has stopped nurturing them--that there is always time to start a new dream. This week's story is about a woman who found success by reviving the passion and the spicy recipe of her beloved great aunt who had inspired her since childhood. --MT
By Lori Weiss
From the time Stephanie Sanoja was four years old, she loved a good party. While she was too young to understand what her older relatives were laughing about -- as they sat around her Great Aunt Gladys' living room drinking Bloody Marys -- what she did know was that every trip to that big old house in New Orleans would be filled with excitement.
"I'd run through the rooms searching for buzzers hidden in the wooden floors," Stephanie recalled. "They had been installed back in the 1800's, so the lady of the house could beckon the staff. But to me they were just part of the adventure! I'd jump on every one over and over, and Great Aunt Gladys would just laugh as she mixed another pitcher of Bloody Marys and pulled out tray after tray of hors d'oeuvres."
Great Aunt Gladys, explained Stephanie, was well into her 60s and considered a "Grand Dame of the New Orleans Garden District." She was always ready for "friends come visiting" with a pitcher of libations served in the finest crystal.
"Gladys was a firecracker -- so full of sparkle and sass," Stephanie said with a grin. "She never needed an excuse for a party. Every moment in life was worthy of one. That's the New Orleans way!"
That New Orleans spirit became so ingrained in Stephanie's soul, that no matter where life took her, she seemed to carry its magic. So when she began her career in Dallas in the colorful field of advertising -- a profession that, not incidentally, is also well known for the love of a good party -- it all seemed like the perfect fit.
What Stephanie didn't know is that the experience she was about to gain in marketing would set the stage for her to bring Great Aunt Gladys' spicy world to a much bigger audience.
"Somehow my mother had managed to wheedle Gladys' Bloody Mary recipe out of her," Stephanie laughed, "and she, of course, passed it down to me. Wherever I went, the Bloody Marys came with me! I'd serve them at parties and bring pitchers to friends' homes. You can take a girl out of New Orleans, but you can't take New Orleans out of the girl!
"Sometimes I'd joke with my friends about creating a Bloody Mary company," she continued. "I'd say, 'I'll hire all of you, and take you back to New Orleans with me.' But then reality would set in, Monday would come along and we'd all go back to our advertising jobs."
A decade into her career, Stephanie had made her mark in the interactive advertising world. But the speed of the internet called for constant change and she was beginning to grow weary of watching projects she'd poured herself into suddenly being taken off the table.
"I was in the middle of a meeting," she said, "presenting the tenth version of the same website. I could just tell my boss was going to make me start over again. And I knew at that moment that I couldn't keep creating projects that weren't going to come to life. My boss thought I was just having a bad day, but I knew that was the end.
"I went home and sat on the porch with a pitcher of Bloody Marys," Stephanie remembered, "and I realized I had no idea what to do next. It was the middle of the recession -- not a great time to quit -- but I was on the verge of turning 40 and I needed to do something for myself."
And at that moment, Stephanie looked over at the beautiful crystal pitcher at her side and decided Bloody Mary's time had come.
With a nest egg she'd stored away in the hope of buying a Mini-Cooper, she ditched the car idea and hired a beverage chemist to help her turn the 21 ingredients in Gladys' secret recipe into a product that could be sold to the masses.
Unfortunately, what she was initially told would take 30 minutes to develop took nine months to perfect.
"All the mixes he came up with tasted great until you added the Vodka," she said. "In my mind, I thought Vodka made everything better. But not Bloody Marys. If even one ingredient in the mix is off, when you pour in the Vodka, it tastes bitter.
"The company thought I was being too picky. But my feeling was, if I can't drink it, I can't sell it. And I certainly wasn't going to move forward with something Great Aunt Gladys wouldn't have served! Finally, we got it right. After that, I think they put the chemist into some sort of witness protection program," she added with a laugh, "because I was never allowed to talk to him again!"
In the midst of what Stephanie refers to as her "bloody mess," she sublet a place in New Orleans' French Quarter, not far from the regal old home she remembered from her childhood. While her aunt had passed away years earlier, Stephanie wanted to drink in the local culture as she prepared her product for market -- and feel what it must have been like for Gladys, when she was in her 40s.
"I toured all the old houses," Stephanie said. "I went to the grocery store where Aunt Gladys shopped every day; I sampled all the special foods I remembered; and I watched my three-year-old son, Davis, dancing in the streets, exactly the way I once did."
As Stephanie immersed herself in the New Orleans spirit, she pictured her Great Aunt's signature beverage lining the shelves of that neighborhood store, packaged in beautiful, pitcher-like bottles, and sold as gifts for holidays or simply as a little something to bring over when stopping by a friend's home.
But Stephanie's step back in time would be rudely interrupted by real life when she learned that the manufacturer she hoped to work with would only accept her product if she used a standard-sized bottle. Specifically, they were looking for something that would fit in with the production lines they were already running.
"I had already gotten a pre-order of two thousand cases from Costco," Stephanie says. "Costco! And there I was without anyone to bottle it. I had the perfect recipe and nothing to put it in."
Unwilling to compromise on the container she knew Gladys would have loved, Stephanie kept searching for a manufacturer who was willing to pour her Bloody Marys into the perfect bottle. And finally she found one -- a beverage manufacturer who felt sorry for her when he heard she'd already purchased 1,500 pounds of a very expensive ingredient.
But it was too late. Unable to deliver, she lost the Costco order. "As big a blow as that was, I kept moving forward. I decided that I didn't care if I had to work until I was 80 to pay off this investment. Too many other people had pulled the plug on my visions and I was going to see this through."
Her persistence paid off. Soon her beautiful bottles began to roll off the line, labeled with a caricature of Great Aunt Gladys, in the way Stephanie liked to imagine her -- at her sassy best.
Today, Garden District Bloody Marys are being sold in more than 40 stores throughout Texas and Louisiana, and a restaurant version is in the works. Even Costco is interested again, provided Stephanie can mix up a vegetarian style.
"I can't help but think that Gladys is somewhere up above," Stephanie said wistfully, "lifting a glass, proud that I stood my ground and that I'm living my life the way she did -- with passion.
"And if she were still here," Stephanie added, "I think she'd be throwing one really great party."
For more information about Garden District Bloody Marys, you can visit http://gardendistrictbloodymarys.com/.
It Ain't Over: Stephanie Sanoja
Stephanie's mother, Sandra Davis, was the first to convince Great Aunt Gladys to reveal her secret Bloody Mary recipe. It was only fitting that she joined Stephanie at her very first gift market -- introducing Garden District Bloody Marys to buyers from the South.

After two years of trying to get Garden District Bloody Marys to market, Stephanie celebrated with a tasting party and invited all the people that stood by her as she brought her dream to life.

Stephanie throws a special Christmas market at the home of illustrator Gretchen Goetz. Gretchen created the company's caricature logo -- an image of Great Aunt Gladys -- in the way Stephanie likes to imagine her today.

Traditionally, Bloody Marys are served in a mini hurricane glass. Here, Stephanie adds a special touch, exactly the way Great Aunt Gladys did--with a spicy green bean, pickled okra and a green olive.

When Stephanie's family gets together, they still make a pitcher of Bloody Marys from scratch. Here she is at her mother's house in Houston -- combining the secret ingredients.

There are 21 secret ingredients that go into Garden District Bloody Marys. Here are a few that aren't so secret.

Stephanie was living in New Orleans when the final recipe for Garden District Bloody Marys was perfected. Here she is in the home she was renting (once owned by Delta Burke) serving the first sample to friends.

Stephanie credits John Sheets from Bartush Foods for bringing her dream to life. He found a way to help her bottle Garden District Bloody Marys exactly the way she had envisioned from the start. Here they are on the first day of production.

When this first bottle appeared, Stephanie hugged every person on the production line. And there were a lot of people to hug. This bottle requires so much hand packaging that 13 people were there to make sure every step went perfectly.

As each bottle is filled, it makes its way down the line to production workers who will add a tamper proof seal. There's a lot of love that goes into packaging Great Aunt Gladys' secret recipe.

Step by step, Garden District Bloody Marys make their way to supermarket shelves. Here, they're just about to go into a heat tunnel that will shrink the tamper proof packing -- securing it tightly on each bottle.

Rex Arnold, a sales rep at Bartush Foods, proudly displays the first bottle of Garden District Bloody Marys as it comes off the production line.

After a long day of production, Stephanie brings home her "baby". Her husband took this picture of the first case of Garden District Bloody Marys to show off to his friends.

Garden District Bloody Marys on the shelves of Bolsa Mercado in Oakcliff, Texas. The owners of this small gourmet market also have a restaurant down the street, where their bartenders are well known for their mixology. They'll be the first restaurant to serve Garden District as their house Bloody Mary.

Stephanie offers samples at Spec's in Houston -- a gourmet grocery store specializing in liquor and wines. Every time she does a tasting there, the shelves are empty by the end of the day.

Stephanie's son, Davis, snaps a picture while his mom is hard at work. Beginning her own business has allowed her to work from home--which makes Davis, who is now five, very happy.

Stephanie found designer John Harrell through a headhunter, but as it turned out, he lived only three blocks away. He created the screen print that graces every bottle.

Stephanie met Evan Batt in a graduate marketing class at Southern Methodist University. They became quick friends and now, as the company's sales director, he has guided her through every step of the sales and distribution process. Here he is with his wife Sally and their son Russell.

Stephanie's father, Mike Davis, gives his stamp of approval. When he and Stephanie's mother first moved to New Orleans, Great Aunt Gladys was the only person they knew in town. She welcomed them with open arms and today, they're proud to watch Stephanie introduce her secret recipe to the world.

Stephanie brought the love of a New Orleans party with her when she went off to college. But she knew even then, not to give out the family recipe, because one day she was going to bottle it. Here, roommates Selena Cook (left) and Tammy Skipper (right) sample Great Aunt Gladys' recipe at the University of Southern Mississippi.

By the time Stephanie was 16, attending Mardi Gras in New Orleans was considered a family sport! Here they are on Bourbon street as the party got under way.

Stephanie at the age of 4--when she first fell in love with the New Orleans spirit.

No one is surprised by anything that happens in the French Quarter. Here, Stephanie's son Davis, is charmed by a snake that he spotted on the street.The large reptile was wrapped around its owner's body, as they strolled down a residential street.

While Stephanie was living in New Orleans, she went by Great Aunt Gladys' home several times -- hoping to, once again, step inside the regal home she remembered. While the house hasn't been kept up in the grand style she recalls, it still sparks all kinds of beautiful memories.

Just like Great Aunt Gladys did, Stephanie and her husband welcome their neighbors over for cocktails on their front porch. No matter where Stephanie lives, she brings the loving spirit of New Orleans with her.
Add Marlo On Facebook:
Follow Marlo on Twitter:
Weekly Newsletter

Sign up to receive my email newsletter each week - It will keep you up-to-date on upcoming articles, Mondays with Marlo guests, videos, and more!

Sign up here