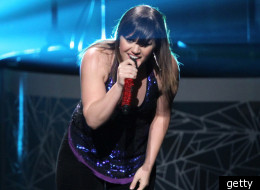 How does Kelly Clarkson celebrate her two Academy of Country Music wins? By singing Britney Spears' pop hit "Til the World Ends," of course!
"I thought this might be a fun one that you all might enjoy," Clarkson told the crowd at a recent concert. "I'm going to sing it a little differently ... I love that song."
Clarkson covered the pop princess' hit single Tuesday night in Los Angeles, as a part of her nationwide Stronger tour, but she put her own acoustic spin on the infamous dance track. The first "American Idol" winner slowed it down but still managed to bring the cheering fans to their feet.
The Fray should take note. This is how you properly rework a song.
Clarkson's latest album Stronger is currently holding steady at No. 19 on the Billboard 200 albums chart.
Speaking of covers, check out some of our favorite "Somebody That I Used to Know" covers below. The Gotye song will next be covered on "Glee."