How Do You Make Your Matzo Brei?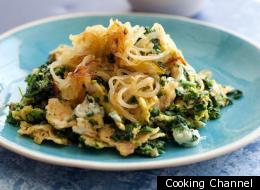 There's one thing that everyone knows is symbolic of Passover, and that's matzo. Right now we're seeing boxes of them everywhere in supermarkets (and we've tasted many too!). Matzo is eaten during Passover for the Seder, but it's also ingeniously made into recipes, like the classic matzo ball soup and a dish that's not as well known, matzo brei (see more recipes made with matzo).
If you're not familiar with matzo brei, it's a breakfast dish of matzo fried with eggs. The typical recipe starts by crumbling matzo, moistening it with water or milk and then frying it like a large omelet or like scrambled eggs. It can be prepared in both sweet and savory ways. Some like it lightly sprinkled with sugar and cinnamon or drenched in syrup like French toast. Others make it savory with sauteed onions. But there are many more ways to make matzo brei ...
Currently the web is abuzz with matzo brei recipes on blogs and food sites, from Adam Rapoport's mom's sweet version at BonAppetit.com to Sara Moulton's savory version at CookingChannelTV.com. So we figured it's worth opening up the conversation to our readers. We want to hear about how you eat your matzo brei! Leave us comments or, better yet, show us your matzo brei creations!
Chow.com has an amazing sweet matzo brei recipe that has the crushed matzo mixture packed into a pan and fried on both sides until crisp. The result is a recipe that looks just like a frittata or a Spanish tortilla. It gets sliced up and drenched with roasted cherries. (Our mouths are watering as we write this!)

Paola at Love and Cupcakes creates a matzo brei recipe that's inspired by one she tried during her college years while working as a nanny for a Jewish family. This recipe is a lot like French toast and it even features caramelized apples, cinnamon and nutmeg.

Over at the Jew and the Carrot blog of The Jewish Daily Forward, Gordon Haber writes about Jar restaurant in L.A. whose chef, Suzanne Tracht, is making it a mission to create a matzo brei recipe for each day during Passover -- seven in total. You'll find chef Tracht's recipe for chilaquiles-style matzo brei, which features a sauce made with three types of chiles.

Cookbook author and food writer Hank Shaw talks about his experiences growing up with Jewish friends whose mothers would make him matzo brei when he'd visit during Passover. He shares two matzo brei recipes on Simply Recipes. The savory version (pictured) is plain and simple: It includes sauteed onion and is fried in schmaltz for rich flavor. His sweet version uses a hint of orange flower water to add a unique flavor and aroma. It's served with cinnamon sugar or applesauce.

Over at BonAppetit.com editor-in-chief Adam Rapoport remembers how during Passover his mom would pack his school lunches with peanut butter and jelly matzo sandwiches, which he didn't much care for. But what he looked forward to was the weekend and his mom's matzo brei -- a classic recipe that comes out like pancakes. As a kid he'd eat it drenched in syrup, but as an adult he prefers preserves or jam.

Sara Moulton at CookingChannelTV.com writes about her experience with matzo brei -- she first tried it when her then-boyfriend-now-husband's mom made it for her. Sara treats this matzo brei recipe like an omelet and stirs in spinach and Boursin cheese for a delicious flavor. It gets garnished with caramelized onions. The recipe can also be made with sauteed mushrooms, onions or broccoli.

The blog Doves & Figs has a very unique sweet and savory version of matzo brei that caught our attention. The recipe combines sharp cheddar cheese and sauteed onions with the matzo -- then it all gets topped with fig jam.