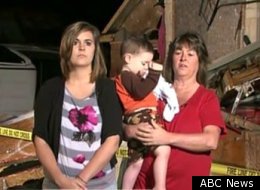 A grandmother saved the life of her grandson and two children as tornadoes swept across Texas on Tuesday.
Sherry Enochs was babysitting her 18-month-old grandson Lane and two other children when she saw a tornado moving towards the home of her daughter in Forney, Texas, the Daily News reports.
Taking cover in a bathtub, Enochs held on to the children as she felt the strong winds trying to sweep them away.
"It just felt like it was trying to just take him, you know just actually take him from me," Enochs told ABC News.
According to WFAA-TV, the children and Enochs survived the tornado without sustaining any injuries.
Lindsey Enochs, the mother of 18-month-old Lane feared the worst when she returned home and discovered the house had been completely destroyed.
"I don't see how they made it out at all," she said in an interview with WFAA-TV. "Then there was just so much joy when I found out that they were okay. I just couldn't believe it. It was a miracle."
The Enochs' home was one of 650 that were destroyed in Tuesday's tornadoes, reports ABC News.