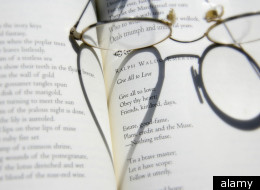 When submitting your poetry to journals or collections, keep in mind that you're just one of hundreds of poets submitting to the same place. So the question is: How can you make sure that your poems make an impression? Fear not, your pals at Writer's Relief are here to help and celebrate poetry month with some tips!
You know the saying "Less is more"? That often applies to poetry. It's the art of taking something big--a feeling, an emotion, an inspiration--and condensing it into carefully chosen words and pinpoint descriptions. The tighter and more precise your word choices, the more powerful each word will be.

Here's one way to shorten your poems: Rather than intricately describing every detail, let the reader make his/her own interpretation. Poetry is the medium for expression that doesn't quite fit into prose; there can be complete freedom of interpretation for the reader.

If you're reading over your poem and think, "We've all had this thought before," then it might be time to make stronger, more attention-worthy connections. Put a new spin on it. There is always a new angle.

Poems that challenge--the reader, the conventions, the genre--are poems that catch an editor's eye. Always be on the lookout for what you can do bigger, better, louder--or sometimes more quietly.

Dig deep and don't be afraid of who you are or what you want to say. The deepest secrets can make for the best reading.

Why so serious? Laughter is a gift and editors love a good chuckle just as much as everyone else. So lighten up!

People are going to lose interest if you're still writing like it's the 1840s. Subscribe to some poetry magazines and see what's going on with contemporary poetry. You'll be able to see how your poetry fits in to the modern scene.

Take word count, format, and aesthetics into consideration before targeting your submissions. Editors will be appreciative that you saved them a little work. Read more: Seven Techniques You Must Know To Make Editors Notice Your Poetry.

Be a poetry student. Read contemporary poetry chapbooks that have recently been published as well as classic, canonized poets. Go to poetry readings (or watch them online). Then, look at your poetry with a critical, knowledgeable eye. This always leads to improvement.

Take classes. Write more. Read. Learn something new every day. All of these things will come together and make your poetry stand out. And, of course, submit your writing regularly so you can start getting those publication credits!